La Tecnología
by Jheison Borja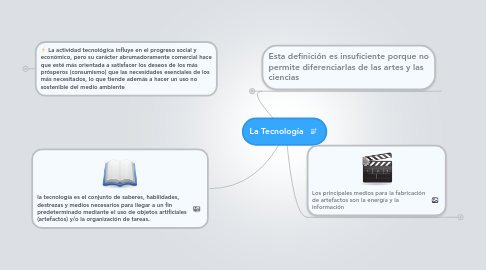 1. la tecnología es el conjunto de saberes, habilidades, destrezas y medios necesarios para llegar a un fin predeterminado mediante el uso de objetos artificiales (artefactos) y/o la organización de tareas.
2. Esta definición es insuficiente porque no permite diferenciarlas de las artes y las ciencias
2.1. We hope you'll have fun with MindMeister ...
2.2. Get started now!
2.3. ... and some great ideas too!
3. Los principales medios para la fabricación de artefactos son la energía y la información
3.1. Use toolbar to add ideas
3.2. Key shortcuts
3.2.1. INS to insert (Windows)
3.2.2. TAB to insert (Mac OS)
3.2.3. ENTER to add siblings
3.2.4. DEL to delete
3.2.5. Press F1 to see all key shortcuts
3.3. Drag & Drop and double-click canvas
3.4. Find out more?
3.4.1. Online Help
3.4.2. Use Cases & Templates
3.4.2.1. Personal Todo List
3.4.2.2. Vacation Planning
3.4.2.3. Meeting Minutes
3.4.2.4. Project Plan
3.4.2.5. more...
3.4.3. Tools and Gadgets
3.4.3.1. Offline Mode
3.4.3.2. Geistesblitz Tools
3.4.3.3. Email & SMS Gateways
3.4.3.4. Offline Mode
4. La actividad tecnológica influye en el progreso social y económico, pero su carácter abrumadoramente comercial hace que esté más orientada a satisfacer los deseos de los más prósperos (consumismo) que las necesidades esenciales de los más necesitados, lo que tiende además a hacer un uso no sostenible del medio ambiente
4.1. Check out http://www.mindmeister.com/tools