My New Mind Map
by Alejandro Avitia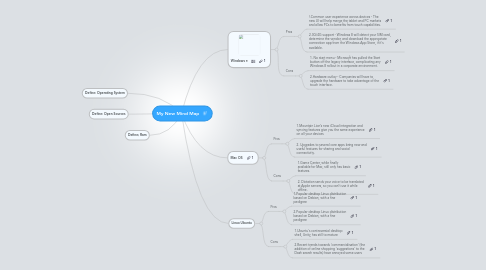 1. Windows 8
1.1. Pros
1.1.1. !.Common user experience across devices - The new UI will help merge the tablet and PC markets and allow PCs to benefits from touch capabilities.
1.1.2. 2.3G/4G support - Windows 8 will detect your SIM card, determine the vendor, and download the appropriate connection app from the Windows App Store, if it's available.
1.2. Cons
1.2.1. 1. No start menu - Microsoft has pulled the Start button off the legacy interface, complicating any Windows 8 rollout in a corporate environment.
1.2.2. 2.Hardware outlay - Companies will have to upgrade the hardware to take advantage of the touch interface.
2. Mac OS
2.1. Pros
2.1.1. 1.Mountain Lion's new iCloud integration and syncing features give you the same experience on all your devices
2.1.2. 2. Upgrades to several core apps bring new and useful features for sharing and social connectivity.
2.2. Cons
2.2.1. 1.Game Center, while finally available for Mac, still only has basic features.
2.2.2. 2. Dictation sends your voice to be translated at Apple servers, so you can't use it while offline.
3. Linux Ubuntu
3.1. Pros
3.1.1. 1.Popular desktop Linux distribution based on Debian, with a fine pedigree
3.1.2. 2.Popular desktop Linux distribution based on Debian, with a fine pedigree
3.2. Cons
3.2.1. 1.Ubuntu's controversial desktop shell, Unity, has still to mature
3.2.2. 2.Recent trends towards 'commercialisation' (the addition of online shopping 'suggestions' to the Dash search results) have annoyed some users
4. Define: Operating System
5. Define: Open Sources
6. Define; Ram