WHAT WE LEARNT
by Nurina Mohd Isa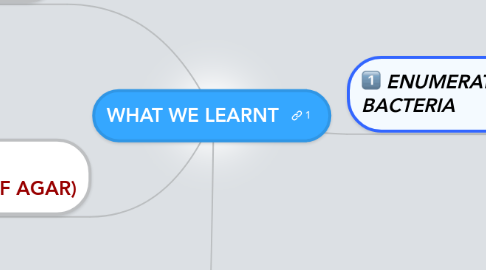 1. ENUMERATION OF BACTERIA
1.1. Sastistical Method
1.1.1. Turbidity
1.2. Direct Count Method
1.2.1. Under Microscope
1.2.2. DISADVANTAGE :Unable to see differentiate between dead and living bacteria
1.3. Viable Plate Count Method
1.3.1. Growth of bacteria on Agar Plate.
1.3.2. ADVANTAGE: Only the living bacteria would grow, thus counted.
1.3.3. To count how many bacteria was there originally, count the colony.
2. ASEPTIC TECHNIQUES
2.1. Swab table top with ethanol solution
2.2. Only touch the collar of gloves when removing (practice correct removal method
2.3. Keep agar plate covered at all times unless when introducing the sample
2.4. Use open flame(Bunsen burner) to reduce bacteria in the environment
3. STEP 1 (SERIAL DILUTION)
3.1. Dilution Factor
3.1.1. 10x
3.1.2. 100x
3.1.3. 1000x
3.2. The bacteria would be more diluted, thus able to count easier.
3.3. 3 out of 4 dilution is onto the agar plate so that able to select the best visibly of bacteria on the agar plate.
4. STEP 2 (MAKING OF AGAR)
4.1. REAGENT: Tryptone Yeast Extract NaCl Agar dH20
4.2. When weighing the reagent always remember to tare the weigh machine before use.