AMWAY
by juan rowda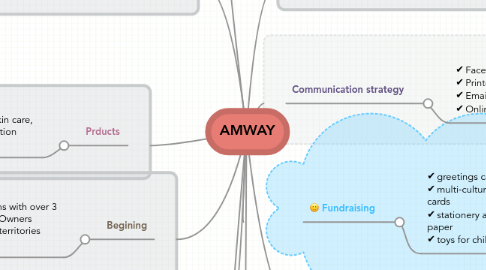 1. "The Amway One by One® Campaign for Children has become a global movement.We do it because it is the right thing to do."
2. Strategy
2.1. strategies involve discussion and communication with other enhance Amway's reputation as a caring organisation make a real difference to human lives.
3. Programmes
3.1. helps Amway to bring its vision to life declares what the company stands for builds trust and respect in Amway brands
4. Communication strategy
4.1. ✔Face-to-face communication ✔Printed material ✔Email communication ✔Online activities
5. Prducts
5.1. Start with : Personal care, skin care, nutrition and wellness, nutrition products
6. It Started With Four Women Talking
7. Objectives
7.1. build loyalty and pride among IBOs and employees
8. Begining
8.1. largest direct salesorganisations with over 3 million Independent Business Owners (IBOs) in over 80 markets and territories worldwide
9. Fundraising
9.1. ✔greetings cards ✔multi-cultural gifts and cards ✔stationery and wrapping paper ✔toys for children.
10. Family Company
10.1. family business with family values. Its IBOs are people who want to make a difference to the communities in which they operate and to the wider world community. This is Corporate Social Responsibility (CSR) in action.
11. Web
11.1. Each child helped and each life impacted is a testament to the incredible giving spirit of Amway distributors and employees