PERSPECTIVES ON LANGUAGE DEVELOPMENT
by Michelle Sebastian-Simon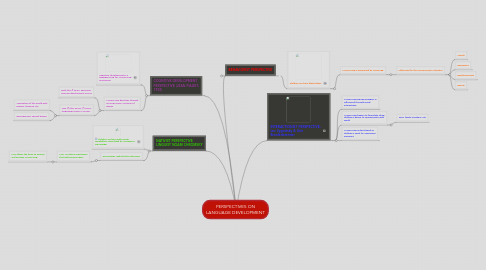 1. BEHAVIORIST PERSPECTIVE
1.1. Children are born blank slates
1.1.1. LANGUAGE is supported by NURTURE
1.1.1.1. Influenced by the environment's activities
1.1.1.1.1. Stimuli
1.1.1.1.2. Responses
1.1.1.1.3. Reinforcements
1.1.1.1.4. Events
2. COGNITIVE DEVELOPMENT PERSPECTIVE (JEAN PIAGET, 1922)
2.1. Cognitive development is a PREREQUISTE for LANGUAGE LEARNING
2.2. LANGUAGE develops through MATURATION; a system of stages
2.2.1. Birth thru 2 years, SENSORY MOTOR development occurs
2.2.2. Two (2) thru seven (7) years, PREOPERATIONAL STAGE:
2.2.2.1. Association of the world with images, drawing, etc.
2.2.2.2. EGOCENTRIC speech begins
3. NATIVIST PERSPECTIVE LINGUIST NOAM CHROMSKY
3.1. Children are born with innate capabilities, stimulated by UNVERSAL GRAMMER
3.2. DISCOVERY aides further discovery
3.2.1. LAD- an inborn mechanism that aides DISCOVERY.
3.2.1.1. LAD allows the brain to acquire and process LANGUAGE
4. INTERACTIONIST PERSPECTIVE, Lev Vygostsky & Urie Bronfenbrenner
4.1. LANGUAGE DEVELOPMENT is influenced through social interactions.
4.2. LANGUAGE begins to formulate durig children's desire to communicate with world
4.2.1. Peer, family, teachers, etc
4.3. LANGUAGE is developed as children's need for expression emergies