Zoom, Zoom, Zoom Things that Go!!-Preschool Transportation
by
Jenifer Merriam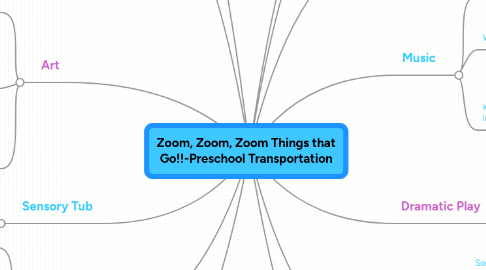 5.0
stars -
1
reviews range from
0
to
5
Zoom, Zoom, Zoom Things that Go!!-Preschool Transportation
Science
Making Ramps-Make several ramps of different heights for children to play with. Investigate which cars will go faster.
Tracks A Wheel Makes-Let children drive cars through several different substances(water, paint, mud, shaving cream, silly putty, etc.) Talk to them about the differen tracks that is made in each substance.
What Sank the Boat?-exploring the concept of sink and float.
Social Studies
Compare vehicles today to vehicles in the past
Community Helpers-police, firefighters, mailcarrier, etc
Land, Air and Water-sorting vehicles on flannel board
Math
Sorting Vehicles by Type-have each child bring in a toy vehicle, pile them up in middle of room for a Traffic Jam and then sort them out into groups:cars, planes, trains, boats, others
High Flying Math-students use wood airplanes to measure flying distant and make comparisons. Use yarn to measure the distant.
Graph favorite vehicle using floor graph
Literacy
Freight Train
The Good Night Train
The Wheels of The Bus
Alphabeep
Row, Row, Row Your Boat-Iza Trapani
Music
Choo, Choo, Soul-train songs
Wheels on the Bus
Karen Henley Songs-traffic light song
Art
Painting with Wheels-use small toy cars to paint tracks on construction paper-extend this to use large outside sand toy cars on butcher paper
Buses-make with cardboard egg cartons painted yellow and add popsicle stick with child's picture glued to the top.
Creates a city with roads using various materials-paper, rocks, yarn, cardboard, fabric, paint.
Dramatic Play
Bus Station-set up two rows of chairs, puppet stand for ticket booth, paper, pencil, crayons, clipboards for making tickets
Boat-bring in appliance box-have students decorate. use small bench for sitting, and brooms for oars. Add props-life jacket, tackle box, some wooden dowel fishing poles.
Sensory Tub
Bulldozer Table-use wet sand, rocks and vehicles that pick up.
Boats in water-tint water blue and add boats to table.
Outside Sensory-create a car wash with sponges, riding toys and towels.
Blocks
Maze Table-use blocks to make a maze on table and cars to find their way out of the maze
Road Map-make streets with masking tape, add signs, cars and blocks for buildings.
Writing
Journal-My favortie vehicle/I like to travel in a....
Thank you cards for Fire Truck visit-draw a picture of our visit and thank you
In dramatic play are-ticket making and signs for bus station
Field Trip-Vehicle Celebration
Visit the Fire Station
Vehicle Celebration Day-Vehicles visit the school UPS, police, mail carrier. Have a riding toy parade with wagons, trikes and big wheels. Pin the wheels on the bus.
Vocabulary
fast, slow, vehicle, tracks, zoom, traffic, traffic light, airplane, boats, ship, travel, maps, community helpers
Home Connection
Book Bag-vacation book to read with parent. Bring a photo for our vacation album of a time you were on vacation to share with our class. How did you get there?