Girls' Self-Esteem and the Media
by Sarah Ingram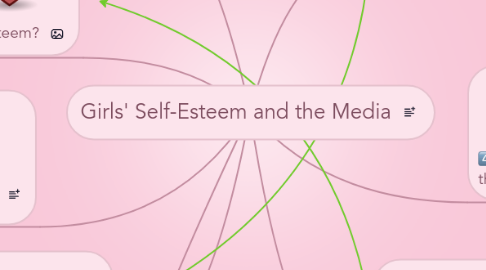 1. Is this even an a social problem?
2. Could it influence what they study in school?
2.1. If they don't feel comfortable at school, could they shy away from what they are interested in due to fear?
2.2. what if it isn't considered 'normal' for a girl to excel in a certain subject?
3. Self Esteem?
3.1. can this issue be prevented?
3.2. Could this have long term effects on self-esteem?
4. Can this effect social activities?
4.1. due to low self-esteem or fear of rejection, one might fear taking risks and getting involved in social activities.
4.2. Socially acceptable?
5. Problems throughout social groups?
5.1. Are certain social groups only interested in what's "pretty" or "in"?
5.2. rejection?
6. Promote future psychological problems?
6.1. Depression?
6.2. anxiety
7. How Early can this problem become a "problem"?
8. What Media is contributing to this problem?
8.1. television
8.2. Magazines
8.3. Movies
8.4. Social Peers