Video Ecosystem for Learning
by
theo kuechel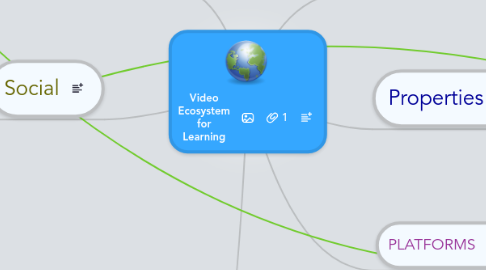 0.0
stars - reviews range from
0
to
5
Video Ecosystem for Learning
This MindMap is designed to help educators navigate the different aspects of Online Video in an educational context. by clicking on on or more of the major nodes you can expand to reveal This is course; work in progress, and a personal intepretation, I will shortly be posting a wiki version where your contributions would be most welcome. These will allow us to build a collective OPEN resource that all ediucators can draw on, in this changing and evolving field. Please email:  theo_dot_kuechel@gmail_dot_com if you would like to edit and contribute
Search & Discovery
(July 2012) There are 72 hours of Video uploaded to YouTube every minute. Add in the other video platforms, archives and services and the need for new and effective search and filtering becomes clear.  Intelligent agents, semantic search and curation are likely to become increasingly important in this space.
CURATION
Search
Aggregation
Content
This branch explores ideas for managing and licensing video content.
Creation
Access
Licences
This branch is designed to investigate the pedagogical affordances and applications of online video.
Transmissive
Learning Designs
Affordances
Based on the Kuomi Model  l and adapted for Dial-E
Schools
Assessment
HE
Simulation
Research
PLATFORMS
This branch looks at the platforms an portals that offer access to online video resources for learning. They range for the key players of YouTube, Vimeo and blip.tv through user founded collections and archives, museums and research bodies.
Video Platforms
Educational
Archive
There has been a great deal of public and educational interest in digitised archives of moving images. These can be used to tell us a lot about our histories and culture and offer an warning so we can avoid making the same mistakes in our society. It is important that  educational access to these rich material is as open as possible and that archive holders can be encouraged to use open licensing.
Social
Video is becoming an increasingly social tool medium. The ease with which it can be deliverd shared has enabled many valuable projects to be launched, and it is the cornerstone of a great deal of currrent social media.
Sharing
Communities of Practice
Activism
Collaborative Video
Ethics
Administrative
Conferences
It is fair to say that most conference presentations now include video clips. It is also fair to say that a great proportion of these will be sourced from YouTube. This trend is unlikely to diminish.
The Properties of Video covers the technical qualities such as audio and video quality, file formats and delivery method; together with the represenational and aesthic qualities.
Streaming
Files
Video Conferencing
Aesthetic
Mobile
Interactivity
Video Podcasts
Lecture Capture Technology