Students Laptop & Internet Rules and Regulations for EDCT 2030
by Caitlin Bowling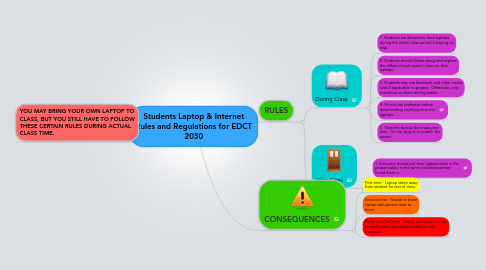 1. RULES
1.1. During Class
1.1.1. 1. Students are allowed to have laptops during the whole class period if staying on task.
1.1.2. 2. Students should follow along and explore the different tools used in class on their laptops.
1.1.3. 3. Students may use facebook and other media sites if applicable to project. Otherwise, only should be on them during breaks.
1.1.4. 4. Should ask professor before downloading anything onto the laptops.
1.1.5. 5. Treat the laptop like it was your own. Do not drop it or scratch the screen.
1.2. After Class
1.2.1. 1. Everyone should put their laptops back in the proper cubby in the same conditioned they found them in.
2. CONSEQUENCES
2.1. First time - Laptop taken away from student for rest of class.
2.2. Second time - Needs to share laptop with person next to them.
2.3. Third and Final time - Sits by professor and has to watch what the professor does on her computer.
3. YOU MAY BRING YOUR OWN LAPTOP TO CLASS, BUT YOU STILL HAVE TO FOLLOW THESE CERTAIN RULES DURING ACTUAL CLASS TIME.