Achieve Your Goals in 2013
by
Richie Egan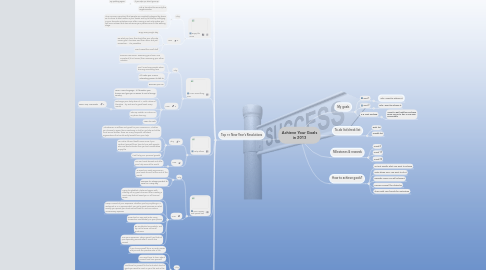 4.9
stars -
42
reviews range from
0
to
5
Achieve Your Goals in 2013
Top 10 New Year's Resolutions
Spend more time with the family
Why, Our lives are so hectic and consumed by our careers that family life takes a backseat and sadly, this affects our loved ones and relationships, It is important to spend time with the people you love, Life is short- do not miss the moments with your loved ones
How, Try to find time in your busy schedule by picking a time or activity that the family can do together. Even simple things like having dinner together too make a difference., Banish TV evenings and sit together at the table and talk about your day, Introduce fixed family meals to your daily routine
Get fit
Regular exercise has been associated with more health benefits than anything else known. Studies show that it reduces the risk of some cancers, increases longevity, helps achieve and maintain weight loss, enhances mood, lowers blood pressure, and even improves arthritis.
Why, In short, exercise keeps you healthy and makes you look and feel better, Why not make this the time to start getting in shape for summer 2013
How, Go to gym and enroll yourself in a class, If you do not want to spent money on a fitness center, grab a friend and go at least 2-3 times a week for a jog or a brisk walk, Be consequent!
Why, Let this year be the year to kick the habit. Even if you've tried to quit before and failed, don't let it get you down. On average, smokers try about four times before they quit for good. Start enjoying your smoke-free life!, It's never too late to make a change in your life, so if you finally want to give up the habit of smoking then the beginning year is perhaps the best time to do it, Smoking is expensive, Add quality and years to your life by quitting
How, Pick a quit day, On your quit date, butt out completely, Choose two or more proven quit-smoking methods, Join a support group, Get individual counseling in person or by phone, Take nicotine replacement therapy (NRT), If you slip up, don't give up, Ask for support from your family and friends, Consider exercising more, Read Alan Carr's Easy Way to Stop Smoking, If you slip up, don't give up, Try quitting again
Enjoy life more
Life is going to shovel dirt on you and life is from time to time unfair. The trick to getting out of the well is to shake it off and take a step up. Each of our troubles is a steppingstone. We can get out just by never giving up!
Why, Life is too short to see only the negative sides, It's a common complaint that people are constantly plagued by stress, so it is time to take matter in your hands and try to relax by indulging in your favourite activities more often. Doing so not only makes you feel more relaxed but also enhances your performance in the working stage.
How, Enjoy every single day, Do what you love; this should be your ultimate career goal. It's easier said than done, but just remember.... it is possible!!, Don't sweat the small stuff
Learn something new
Why, Exercise Your Brain: exercising your brain is as important (if not more!) than exercising your other muscles, You'll meet new people when learning something new, It'll make you a more interesting person to talk to, Because you can
How, Learn a new language - it'll broaden your horizon and give you a reason to visit a foreign country, Exchange your daily dose of TV with a dose of literature - try and read a good book every month, BBC's Top 100 Books, Take up Sudoku or Kakuro or any brain training., Learn to cook
Help others
Why, Volunteerism is selfless and good for your conscience. Whether you choose to spend time mentoring a child or go help out at the local animal shelter, there are many nonprofit volunteer organizations that could really benefit from your help, You value life and health even more if you confront yourself from time to time with people who are less fortunate than you but nevertheless enjoy life, It will help your personal growth
How, You can travel abroad and offer your help around the world
Save money and spend less
Why, To avoid any nasty surprises on your bank account at the end of the month, Because it's always prudent to save for a rainy day
How, Trying to establish a balance begins with clearing off any past dues and then creating a mind map that will assist you in all financial issues, Keep a record of your expenses- whether you buy anything in a restaurant or in a supermarket- you get a good overview on what exactly you spend your hard earned cash on and can reduce unnecessary expense, Download an app and enter every transaction immediately on your phone, Be as detailed as possible, and try not to leave out small purchases, Trim your expenses- Take a good, hard look at your spending records after a month has passed
Schedule More "You" Time
Why, If you love yourself life is so much easier, and you see the positive side of life, You need time to learn about yourself and love yourself, Find time for yourself to find out which kind of goals you want to reach in your life and in the future, The most important thing in your life should be yourself!, "My primary relationship is with myself - all others are mirrors of it. As I learn to love myself, I automatically receive the love and appreciation that I desire from others. If I am committed to myself and to living my truth, I will attract others with equal commitment."- Shakti Gawain
How, Do things that you really enjoy!, Instead of heading from one event to the next use an evening or afternoon only for yourself without meeting anybody, at least a few hours a week, Take a bath or sit down on a park bank and listen to yourself. If you have to make any hard decisions being alone helps you to listen to your gut feeling
Lose weight
Why, Life quality will improve if you lose a few pounds, Improve overall health, Improve self-esteem
How, The only way to be successful: Set realistic goals and keep targets small, Combine dieting and exercise, Keep enjoying your food - just reduce portion sizes, Instead of driving, go on foot or by bicycle, Similarly, make it a habit of taking the stairs instead of the lift, or walking escalators, Set a goal - "I want to lose 3 pounds in 2 weeks"
Drink less
Why, Improve your health, Save money, Wake up refreshed and be more productive
How, Keep track of the amount you drink. You might be surprised at how much it really is., Set a goal, and spell out your reasons for that goal, 8 Tips For Drinking Less Without Your Friends Knowing, Empty out your drinks cabinet at home (into the garbage bin), Replace drinking with positive activities. Get involved with a community group, take up a hobby, or go to the gym, Surround yourself with friends that won't pressure you to drink
My goals
Goal 1
Why I want to achieve it
Goal 2
Why I want to achieve it
e.g. Quit smoking
I want to get healthier and save some money to buy a new Mini Convertible
Set out exactly what you want to achieve
Write down WHY you want to do it
Describe HOW you will achieve it
Prepare yourself for obstacles
Share with your friends for motivation
Daily list
Weekly list
Milestones & rewards
Week 4
Week 12
Week 24