Army Knowledge Management Principles   http://www.army.mil/ciog6/docs/AKMPrinciples.pdf
by
Brett Miller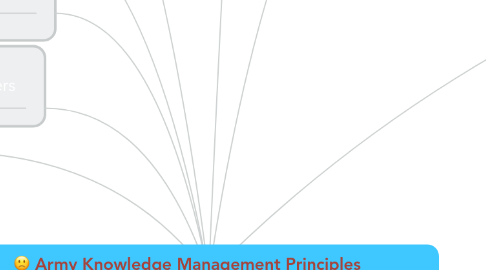 0.0
stars -
0
reviews range from
0
to
5
Users own the collaborative community
IT providers
embed and use digital media to add to or leverage the existing knowledge assets of the Army.
training routines
operations
PRINCIPLE: Use standardized collaboration tool sets
Assess what is valuable from past activity
Modify and evolve business rules to meet the commander's intent and quickly adapt business processes to meet or anticipate emerging threats or business opportunities (situational awareness)
Provide access to structural capital to
accelerate learning curves
adopt/modify best known practices
IMPLICATIONS
KM applications need to be designed and operate with an enterprise focus, permitting access and searching across systems and organizations without technical or structural impediments
Leaders need to incorporate the Core Principles of Collaboration into
business procedures
human resources practices
PRINCIPLE: Protect and secure assets
Information
knowledge
RATIONALE:
Leverage digital media
add, context, understanding, situational awareness
to, operations, business activities
In the design and operation of KM systems, leaders need to ensure that there are no organizational or technical barriers blocking access to digital media residing in knowledge bases
Managers
Train and deploy with them
Process
6.
RATIONALE:, Denying adversaries access to key information gives US and coalition forces the decisive advantage to securely communicate and collaborate across geographic and organizational boundaries
IMPLICATIONS, Balance risks regarding "need to know" against "need to protect", Requires leaders of knowledge communities to comply with relevant information assurance regulations and policies
7.
PRINCIPLE: Knowledge assests, Embed, in standard business processes, Provide access, to those who need to know
IMPLICATIONS, Incumbent on leaders to creatively, Convert, From..., Intellectual capital, Ideas, Best known practices, ...to..., Structural capital, Digitized, Accessible, Searchable, Verify content for legality and desired outcome.
8.
PRINCIPLE: Use legal and standard business rules and processes across the enterprise
RATIONALE:, Established business rules and processes are repeatable, reducing learning curves, promoting consistent quality, products, services
Lean Six Sigma and continuous process improvement principles apply
IMPLICATIONS, Follow standard, business rules and processes, set by, Army, DoD
Technology
9.
RATIONALE:, Training on and using common collaborative software tool sets, reduces, Costs, Training, Maintenance, impediments, searching for relevant knowledge across the enterprise, creating, Common platform, exchange, information, knowledge, in / with, theater, partners, other organizations
IMPLICATIONS, Use approved collaborative tools sets, Army, DoD
10.
RATIONALE:
11.
PRINCIPLE: Use a robust search capability to, access contextual knowledge, store content for discovery
RATIONALE:, Create seamless and ubiquitous service-on-demand when one client application requests one or more services for another application which provides complimentary services, PRINCIPLE: Use open architectures to permit searching and access across boundaries, With the exception of classified information, knowledge bases should be accessible and searchable by search engines that deliver contex­tual knowledge and information
IMPLICATIONS, Use appropriate content management principles
12.
PRINCIPLE: Use portals that permit single sign-on and authentication across the global enterprise, including partners.
RATIONALE:, Using the Army's enterprise portal for access and authentication lessens confusion for users and provides a standard process for accessing enterprise knowledge assets while reducing total cost of ownership of other portals, websites or knowledge networks
IMPLICATIONS, portal of first choice, AKO, centrally funded by the HQDA CIO/G-6, available at no additional cost, Army commands, Army organizations, DKO, Successors
People / Culture
1.
PRINCIPLE: Train / Educate workforce in KM, Leaders, Champions
RATIONALE:, To create a culture of collaboration, the Army needs to, educate the next generation KM change agents who, understand KM, Principles, Technologies, can effect change, accelerate meeting mission objectives
IMPLICATIONS, Identify methods for, curriculum development, Train and educate the force, KM Competency, at all levels of the Army
2.
PRINCIPLE: Reward, Knowledge sharing, Knowledge management career
RATIONALE:, What gets rewarded in organizations gets done, Reward structures guide organizational and individual behaviors
IMPLICATIONS, Establish KM career fields (where appropriate), Insert performance elements to evaluate knowledge sharing contributions, NSPS, OER, NCOER
3.
PRINCIPLE: Establish Doctrine of Collaboration
RATIONALE:, A collaborative environment fosters, new ideas, understanding, ways to execute the COMMANDER'S INTENT
IMPLICATIONS, , 1. Responsibility to Provide -, "need-to-share", "responsibility to provide", 2. Empowered to Participate -, Soldiers and Civilians, empowered to, participate, share insight, in virtual collaborative communities, without seeking prior permission, 3. User-driven -
Collaborative communities are
self-defining
self creating
adaptable
4.
PRINCIPLE: Use every, Interaction, face to face, virtual, as an opportunity to, acquire knowledge, share knowledge
RATIONALE:, Continuous learning is an expected day-to-day activity, Learning faster than, adversaries, competitors, yields results, short-term, long-term
IMPLICATIONS, Leaders need to frame day-to-day activities as, learning opportunities to accelerate, knowledge acquisition, knowledge transfer, Promote learning in, teams, social networks, informal, formal
5.
PRINCIPLE: Prevent knowledge loss
RATIONALE:, Knowledge, is perishable, has a life cycle, which can't begin until knowledge is, documented, assessed for its value
IMPLICATIONS, Document it, Share with those who need to know