Moodle
by
Sigi Jakob-Kühn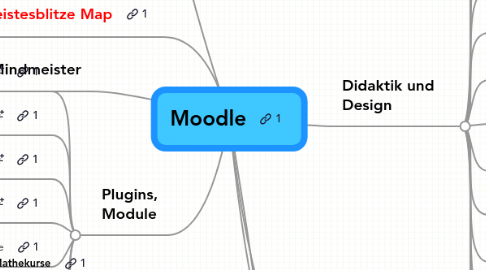 0.0
stars -
0
reviews range from
0
to
5
Mindmeister
tolle Anleitung vom Kreisgymnasium Neuenburg
Moodle Videos
A brief presentation of Moodle, an open source learning management system (www.moodle.org). The video is also available on http://vimeo.com/3867499 and http://blip.tv/file/1922295/ You can view ...
Didaktik und Design
Course management systems, like any other technology, have an inherent purpose implied in their design, and therefore a built–in pedagogy. Although these pedagogies are based on instructivist principles, today's large CMSs have many features suitable for applying more constructivist pedagogies. Yet few faculty use these features, or even adapt their CMS very much, despite the several customization options. This is because most college instructors do not work or play much on the Web, and thus utilize Web–based systems primarily at their basic level. The defaults of the CMS therefore tend to determine the way Web–novice faculty teach online, encouraging methods based on posting of material and engendering usage that focuses on administrative tasks. A solution to this underutilization of the CMS is to focus on pedagogy for Web–novice faculty and allow a choice of CMS.
Lehrerfortbildungserver BW
hier gehts um Kursdesign! viele gute >Tips in diesem Blog!  
Video von 2008, Phase 3 st interessant! Nachvollziehbar!
ausgezeichnete Ideen, wie man Aufzählungen vermeidet und das Modul Book sinnvoll einsetzt!
aus dem Blog von Rolf Kröger- Überlegungen zum Kursdsign
PPT zu den verschiedenen didaktischen Szenarien  
Sue Harris moodle possibilites wiki
10 Moodle Instructional Use Scenarios
Moodle Kurse
das ist der Sammelkurs, den ich erst mal angelegt hatte für Ideen etc... die evtl für uns alle brauchbar sind..  
Besprechung des moodle Hub durch rne Scheppler im Blog
Plugins, Module
demo Video from education LABS
können wir das Modul integrieren??? wär perfekt!
Rene Scheppler hat das ausprobiert und hier gibts ein Video dazu!
auch wieder Besprechung von Rene Scheppler in seinem Blog, bei Moodlerooms gibts da wohl auch Material
Mediabird zum kollaborativen Arbeiten
toler Blogeintrag von Rene Scheppler mit praktischem Beispiel un Screenshots
Moodle Lernkurse
toller Kurs von edumoodle.at zur Einführung in Moodle zu den einzelnen Aktivitäten. Jeweils als Videos aufgenommen! Ausgezeichnete!!!! Selbstlernkurs!
web 2.0 Tools