FFAI Simulated Reality
by
Thomas Breuel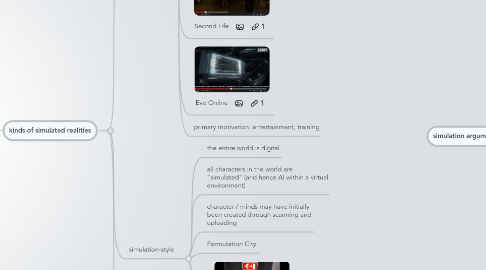 0.0
stars - reviews range from
0
to
5
FFAI Simulated Reality
algorithms and "core CS"
efficiency
parallelization
accuracy
NPCs, agents
lots of potential
movies / literature
Time out of Joint
Simulacron-3
The Matrix
eXistenZ
The 13th Floor
lots of SciFi series (ST, SG1, etc.)
Permutation City
Schild's Ladder
summary
intelligent agent simulations are a key aspect of many kinds of research
these ideas have become an integral part of our culture
both "classical" religion and the simulation hypothesis postulate creation and transcendence, but differ greatly in purpose, properties, and observability
many topics related to simulation are an active area of AI research
Exercise
Write a 5-10 essay on the simulation hypothesis.
address
Note: there is no right/wrong answer. The goal is to present clear arguments.
You can't just answer these three questions, you need to tie your essay together in some way, to tell a story.
(There will be one more, a "research proposal".)
plausibility
consistency with reality
who and why?
simulation argument
"reality is an illusion" is an old idea
simulation hypothesis
argument
implications
kinds of simulated realities
game-style
simulation-style
emigration-style