The Legend of the White Doe
by
Abbey Heward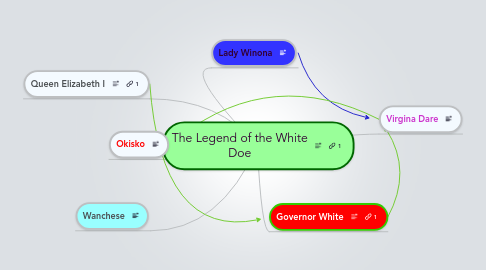 0.0
stars -
0
reviews range from
0
to
5
The Legend is that beautiful Virginia Dare was turned into the Doe.
Wanchese
He was an eval man, he turned on his kind. He took down Mr. Dare and other men that were in the fight.
Virginia Dare was the first child born in America. She was the daughter of Elinor Dare. Her father died when they were attack. Her Grandfather was Governor White he was supposed to return with the food and supplies. She was to marry Cipo (Go to Cipo). Oksiko said no they ran away and were found by Cipo and he turned her into and doe. Oksiko tried to save her, but he could not save her because he was too late, she died a human.
Governor White was good man and saved no lives though he tried. He went on a ship to get supplies when he could not return then in three years he did but he found no people. There was word in a tree saying Croatian. He could not pass the sea.
She was the stepp mother of Virginia Dare and she Was the mother of Cheif and Lord Manteo. She was kind and loving she was one of the women leaders.
Okisko
Oksiko was an Indian who wanted to marry Virginia Dare, and he was a great hunter. When he found out her wanted her as his wife he was mad so he risked her life so they could marry, but Cipo found them and turned Virginia Dare into a Doe. He went to a medicine man and the medicine man told him to take the arrow and shoot her. He was not sure but when he got home and found out they were going to hunt his love he was heart broking. He did but someone else shot her the second he did. She died and passed as a human.
Elizabeth I (known simply as "Elizabeth" until the accession of Elizabeth II; 7 September 1533 – 24 March 1603) was queen regnant of England and Ireland from 17 November 1558 until her death. Sometimes called "The Virgin Queen", "Gloriana", or "Good Queen Bess", Elizabeth was the fifth and last monarch of the Tudor dynasty. The daughter of Henry VIII, she was born a princess, but her mother, Anne Boleyn, was executed two and a half years after her birth, and Elizabeth was declared illegitimate. Her half-brother, Edward VI, bequeathed the crown to Lady Jane Grey, cutting his two half-sisters, Elizabeth and the Catholic Mary, out of the succession in spite of statute law to the contrary. His will was set aside, Mary became queen, and Lady Jane Grey was executed. In 1558, Elizabeth succeeded her half-sister, during whose reign she had been imprisoned for nearly a year on suspicion of supporting Protestant rebels. Elizabeth set out to rule by good counsel, and she depended heavily on a...