FACTORS THAT EFFECT THE LEARNING PROCESS
by Yesica Vazques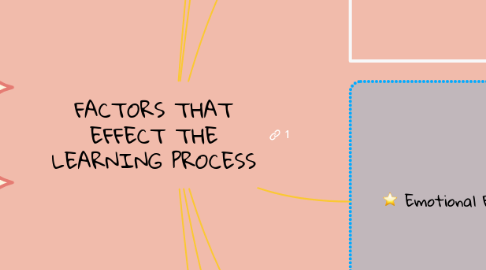 1. Print Media:
1.1. It refers to texts or printed materials.
2. Intellectual Factor
2.1. Intellectual ability:
2.1.1. Everyone has different intellectual strengths and weaknesses.
3. Environmental Factor
3.1. Natural Surroundings:
3.1.1. It covers the climatic and atmospheric Conditions.
3.2. Social Surroundings:
3.2.1. It includes insufficient, ventilation, improper lighting, noisy environment due to use of radio, TV, etc.
4. Physical Factor
4.1. Health:
4.1.1. is the student free from illnes?
4.2. Physical development:
4.2.1. Are there changes in their body?
4.3. Nutrition:
4.3.1. Do they eat nutritious foods?
4.4. Visual and auditory defects:
4.4.1. Do they suffer from physical defects?
5. Emotional Factor
5.1. Stress:
5.1.1. A little bit of stress can be good as the body releases adrenaline to address it.
5.2. Sleep:
5.2.1. It helps the brain to learn and process new information.
6. Media Factor
6.1. Non-Print Media:
6.1.1. It is also known as modern electronic media.
7. Relationship with:
7.1. Teachers:
7.1.1. The teacher is an important constituent in the instructional process.
7.2. Parents:
7.2.1. If the child-parent relationship is based on mutual respect and faith, it can facilitate his or her learning. In contrary, a distorted and unhealthy environment, adversely affects the learning of the student.
7.3. Peer:
7.3.1. Student-student relationship in the classroom, school, society, etc. creates a particular type of emotional climate.