How did you use new media technologies in the construction and research, planning and evaluation stages?
by krishma shari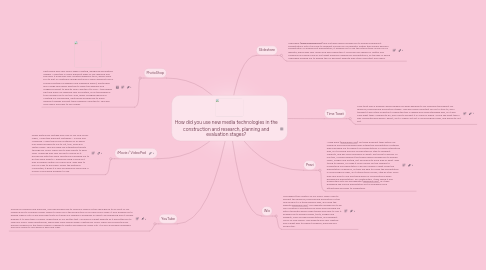 1. Prezi
1.1. I used prezi (www.prezi.com) for three different tasks within my research and planning which was interactive presentation software which allowed me to present my presentations in a more interesting way, as it zoomed and self-moved step by step to different subjects, and has more emphasis in what I am trying to display. To use this, I placed different text boxes which allowed me to embed video, images and writing, but zoomed into each area of what I was trying to explain, so made it more clearly for the viewers to understand my presentation. This also shows in what order the presentation is going in, so they are able to follow the presentation in chronological order, as it interactively moves, step by step. Prezi was very easy to use and there were no complications when designing a presentation. By creating this, I then saved it and embed this onto my wix website (www.wix.com), as it was displayed like normal presentation but is displayed more attractively and easy to understand.
2. Slideshare
2.1. Slideshare (www.slideshare.net) was software which allowed me to embed PowerPoint presentations onto it and link to different sources on my website. Rather than simply having a presentation on PowerPoint presentation, it allowed me to use this interactively online on my website, which was very useful and well presented. It could also be shared on Twitter and Facebook and have more of my target audience viewing my presentations, so the way in which Slideshare allowed me to embed this on different website was vitally important and useful.
3. PhotoShop
3.1. Photoshop was very useful when creating, designing and editing images. I used this in many different areas of my research and planning. It embraces very creative graphical tools, which allow you to edit or creatively change pictures in many different forms. During creating my digipack and magazine advert, PhotoShop was a huge help when wanting to make the digipack and magazine advert to exactly how I wanted it to look – this helped edit and place my digipack very accurately, as all the graphical tools allowed me to do this. Also, when collaging ideas and creating my Moodboard, PhotoShop allowed me to place different images and edit them however I wanted to. This was very useful and easy to use overall.
4. iMovie / VideoPad
4.1. When editing my footage and clips of my final music video, I used two different softwares – iMovie and VideoPad. I used the iMovie software on an apple mac which allowed to me to cut, trim, slow and fasten slides. This also gave me interesting transits through my music video and to add affects to each slide. VideoPad was very similar to iMovie as it proved me with the same facilities and allowed me to do the same affects. I preferred using iMovie as it was a program within my school and I was able to use on a day to day basis. When the editing is completed, it gives it a very professional finish and is overall a very good program to use.
5. YouTube
5.1. During my research and planning, YouTube allowed me to view any videos of the same genre to do most of my research and to compare similar videos to help me in the production of my own music video. It also allowed me to embed videos onto m wix and prezi texts so it gives my viewers in emphasis on what I am explaining and it visually displays it to give them a clearer understand of my written text. YouTube is a great website as it permitted me to view any music video whatsoever, which was really helpful when creating my music video and conducting my primary research on the type of genre I needed to create and make my video into. It is also accessible anywhere and very simple to use which is easy and clear.
6. Time Toast
6.1. Time toast was a program which helped me when keeping to my schedule throughout my research, planning and production stages. This was really important for me to stick to, and I thought it was vitally important I presented this in legible and understandable way, so it was clear what tasks I needed to do, and I had to present it in a way in which I could see what tasks I had completed and which I hadn't, as it is clearly set out in chronological order, and perfectly set out.
7. Wix
7.1. Throughout the creation of my music video I had to present the research, planning and production of the final product in a technological way, and used the website www.wix.com/. This website allowed me to be very creative in presenting my work and provided me with a template which made things very easy to use. It enabled me to embed videos, texts, images and widgets, such as prezi presentations, and different forms of new media. This website was very creative and a great way to present research, planning and production.