CONSTRUCTION SERVICES LAW (NUMBER 2 OF 2017)
by maria stefanny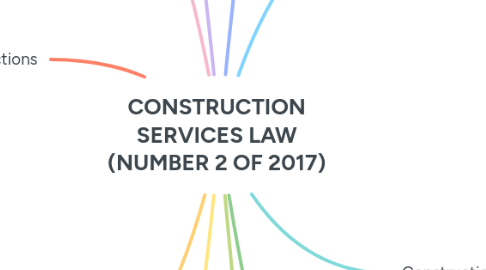 1. Dispute settlement
1.1. Court Route
1.2. Out of the Court Route
1.2.1. Dispute resolution through out-of-court channels can be achieved for problems that arise in binding activities and occur in the event of a building failure.
2. Information systems for construction services
2.1. The Indonesian government intends to develop integrated system information in order to deliver a precise and comprehensive information and data for conducting building services. That is the provider of, as well as the user of construction services must be provided to supply information and data to this system in relation to responsibilities, powers, responsibilities including creation and service conducted by both local and central government's role in the building service industry
3. Sanctions
3.1. only imposes administrative sanctions, such as, written warning, administrative fee, temporary suspension of the construction activity, blacklisted, and accreditation suspension and revocation.
4. Financing and guarantees
4.1. a.The construction service user is responsible for all construction service costs based on the construction work contract, which is evidenced by the ability to pay (i.e. financial capability statement from bank or non-bank institution) and/or commitment upon procurement of construction service product (i.e partnership agreement). b.The construction service provider shall deliver the following guarantees to the construction service user for the purpose of fulfilling requirements for service provider selection: bid bond; performance bond; advance payment guarantee; maintenance guarantee; and/or appeal objection guarantee.
5. 3 Types of construction business services
5.1. construction consultation business services
5.1.1. General
5.1.1.1. Architecture; Engineering;
5.1.2. Special
5.1.2.1. Scientific and technical consultancy, and Examination and technical analysis
5.2. construction work business
5.2.1. General
5.2.1.1. Building and Civil Construction
5.2.2. Special
5.2.2.1. Installation; Special Construction; Pre-fabricated Construction; Building Finishing; and Equipment Rental.
5.3. integrated construction business
5.3.1. consist of building and civil construction
6. Construction security, safety, and continuity
6.1. Security technical guideline, construction workplace safety, health, and protection and social workers, as well as governance local environment and environmental exploitation live in the implementation of Construction Services
7. Foreign construction services business entities – forms and qualifications
7.1. Type of entitiy
7.1.1. Representative office
7.1.2. Legal entitiy which established under the law of the Republic of Indonesia
7.2. Main Requirements
7.2.1. Forming operational coorperation with a large scale national construction company which has already secured the relevant business license for every contruction work in Indonesia; Indonesian citizens as the chief representative office
7.2.2. Joint venture scheme with national construction company
8. Construction manpower
8.1. Employers of foreign construction workers are required to have a plan for the foreign workers employment (RPTKA) and secure a permit to employ expatriates (IMTA); Employers must have registration certificate from the minister. The registration certificate is obtained based on competency certificate according to foreign state law
9. Construction services providers
9.1. Compulsory submit work results in the appropriate cost, quality, and time.
9.2. Prioritizing Indonesia Citizen as the highest leader in project organization
9.3. Must meet the standard of security, safety, health, and continuity
10. Government's responsibility and authority in the construction sector
10.1. Creating a conducive business climate,transparent construction management services,healthy business competition
10.2. Increasing business capability and capacity National Construction Services
10.3. Increase the quality of the use of materials and construction equipment and construction technology domestic