My English Context
by Antonio Velazquez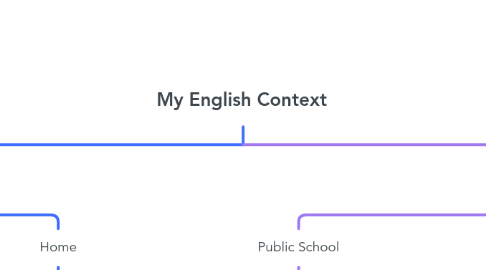 1. Previous English context
1.1. Public school
1.1.1. When I was a teenager, my English teachers were not prepared and they didn't care about the class at all, I felt I wasn't learning anything at all.
1.2. Private school
1.2.1. I got the chance to study in a few private schools with small groups and I really enjoyed, sadly I had to leave it because of personal problems.
1.3. Interaction
1.3.1. As I was a little kid, my interaction with English was poor, all of the movies and TV shows that I used to watch was in Spanish so I didn't get any words at all.
1.4. Extra practice
1.4.1. Back then, I didn't know any tools or applications to learn English and practice the most skills possible, so I just kept studying at that private school.
1.5. Home
1.5.1. At home, my parents didn't care at all about my English education but after some time asking them they finally accepted of getting private lessons of English.
2. Current English context
2.1. Public School
2.1.1. Now, I'm studying a BA in English Lanuage in a Public School and I really like it. I have excellent teachers who are really dedicated and loves what they are teaching.
2.2. Private school
2.2.1. As I'm currently living and studying in another city, I don't have the time and the chances to also study in private schools, I consider I'm fine with where I'm studying right now.
2.3. Interaction
2.3.1. Now, I think 90% of what entertains me is in English, most of the music, TV shows, movies, podcasts, etc. And doing this there are a lot of words, phrases, slangs and idioms that I have got during this time which is great as I'm increasing my vocabulary.
2.4. Extra practice
2.4.1. Now that I know more about tools to learn English, I use a couple to keep practicing in my free time, even talking with native people to practice what I consider I struggle the most which is speaking and being fluent with it.
2.5. Home
2.5.1. At home, as I'm far away from there, my parents knew how to support my dreams and goals, so they support me a lot now that I'm studying what I love and enjoy, and I really appreciate it.