Professional development
by Christian Jay Cuyos Monsanto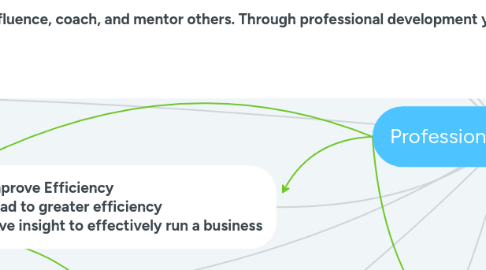 1. Meaning A process in which workers and or professional individuals alike acquire necessary knowledge and skills to improve and succeed on their own jobs or careers. A combination of continuing or life-long education and professional learning. Gained through undergoing training, having education, and acquiring of certificates.
2. Professional Development Path Person focuses on the industry they are in to become a better worker. Opens your eyes for the skills you need to fit in a job environment in the future.
3. Growth Areas – things to pursue to develop professionally Communication Skills – to effectively communicate with others Conflict resolution skills – effectively deal with conflicts that hinders teamwork. Flexibility or Adaptability – adapt on ever-changing work conditions and situations. Creativity – innovative in sharing ideas and solutions. Time management skills – effectively meet deadlines, goals, and manage workload to reduce stress. Integrity – building trust with colleagues to showcase your value in transparency and improve work ethics. Leverages - who you can build connection with to improve chances of succeeding in your job or career. Mentors Managers Colleagues
4. Awareness On Business trends – shifts of business dynamics of an industry Ex. use of AI vs human workers, talent pool, employee experience, sustainable operations Organizational Trends – shifts or changes in the way of creating value, power, and influence of a company. Ex. use of tech in organizational learning, preferred organization ethics of workers, digitalization,
5. Level Up •Profession •Community •Knowledge
6. Be Updated •Stay relevant •Changing trends •Industry
7. Add value •Meaningful •Career •Position •Workplace
8. Importance of professional development
9. Add Interest •increase employees knowledge •creating employee loyalty •teach leadership skills •feel connected to work •earn more money
10. Keep pace •maintain work-life balance •stay ahead •more productive •change better
11. 1.Promotion In focusing on your training and development you can advance your career and move into positions where you can lead, manage, influence, coach, and mentor others. Through professional development you are •more productive, efficient, and effective •able to reflect on your learning, highlight gaps in your knowledge, and experience and track your learning to chart your progress •better prepared to make new contributions in your workplace
12. 2. Earning potential Employers value and reward the learning agility one gains from professional development. During performance appraisals you can speak to the knowledge and skills you've gained that enable you to deliver a professional service to your customers, clients, and the community.
13. 3. Professional network By working on projects and assignments with classmates they discover who you are, how you think, and the skills you offer. This provides an excellent basis to network during the course as well as before and after.
14. 4. Flexible schedules We know how challenging it is to fit your professional development into a busy life. We work with you to find the classes and online learning options that suit your needs.
15. 5. Industry experts Our instructors are recognized leaders in their fields who enjoy helping others realize their potential. They combine relevant professional experience and education with a commitment to lifelong learning and a passion for sharing knowledge.
16. Allowing employers and members of their staff to further develop their mentoring / coaching skills (a way of improving their own performance). •Offering opportunities to share company goals in productivity, employee flexibility and versatility with employees. •A way to target areas of productivity or performance fairly and without singling out employees. •A way to engender a shared work ethic between employers and employees.
17. Improve Efficiency Lead to greater efficiency Give insight to effectively run a business
18. Professional development expands your knowledge base by: Provide new ideas to both young and seasoned professionals Expand competence sector Seek out learning opportunities will reap the greatest benefits
19. Ways to professionally develop professionally Make New Connections Improve Your Time Management Polish Your Soft Skills Read More Books Add to Your IT Skills
20. 1. Make New Connections Networking is an excellent way to progress along your career path, whether that's by finding new job opportunities, gaining insight into the kinds of training you could be taking part in, or meeting an experienced individual
21. 2. Improve Your Time Management Time management is not about doing more; it's about knowing there's a limit on how much you can do.
22. 3. Polish Your Soft Skills People often associate 'soft skills' with effective communication, but that's only one part of polishing your transferable and interpersonal capabilities. 
23. 4. Read More Books Books are a great way to learn from other people's experiences, without having to leave your office or armchair - and with the advent of ebooks, they're cheaper and easier to get a hold of than ever before.
24. 5. Add to Your IT Skills Most jobs, especially office jobs, now need a working understanding of computers, but as you climb the career ladder, you're more likely to be tasked with digital planners and time sheets to maintain and modify.