C.W. 4 Create a Mind Map
by Joshua Gonzalez gomez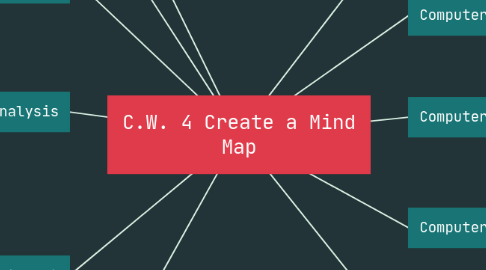 1. THE FIVE CONCEPT AREAS OF COMPUTER SCIENCE
2. Computing Systems
2.1. Computing systems are the machines that run programs and process information.
3. Algorithms and Programming
3.1. ALGORITHMS and programming involve writing the programs
4. Data and Analysis
4.1. DATA and ANALYSIS refer to collecting, storing, organizing, and studying facts to help us understand what the data means.
5. Networks and the Internet
5.1. NETWORKS are a group of connected devices (like computers, laptops, and servers). They share information, and may also share resources like a printer.
6. Impacts of Computing
6.1. Understanding the impacts of computing involve studying how computers influence our lives, culture, safety, laws, and behavior.
7. WHAT IS COMPUTER SCIENCE?`
7.1. A COMPUTER is a device that stores and processes (changes, moves, or rewrites) information.
8. Computer Systems!
8.1. programming rules, data and analysis, networking, the internet,
9. Computer scientists
9.1. use computers' abilities to help them develop new technologies that make our lives easier.
10. Computer technology
10.1. affects the way we live and think. It can help us solve our problems and make our lives seem easier,
11. Computer science
11.1. is a type of problem solving; it includes the study of computers, their design, and the way they process information.