What is an appropriate balance between "online" and "offline" learning?
by Marina Privorotsky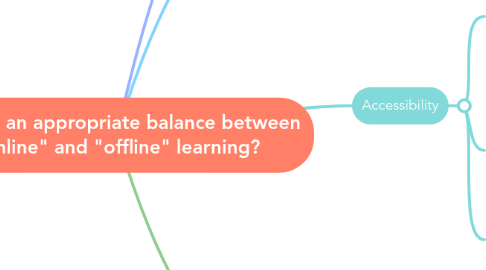 1. Access to technology
2. Ethics
2.1. What are the environmental impacts of tech-based learning?
2.2. What are the societal costs for both types of learning?
3. Accessibility
3.1. Do both styles of learning work with VARK learning styles?
3.1.1. Kinesthetic
3.1.2. Audio
3.1.3. Visual
3.1.4. Reading/writing
3.2. What is required for online or tech-based education?
3.2.1. Access to internet
3.2.2. Training
3.3. What is the cost for tech-based education?
3.3.1. Implicit cost
3.3.2. Explicit cost
4. Health
4.1. The importance of time unplugged
4.1.1. Connection with nature
4.1.1.1. shinrin-yoku (forest bathing)
4.1.2. "Winter of our Disconnect" by Susan Maushart
4.2. Effects on the body
4.2.1. Brain
4.2.2. Vision / sight
4.2.3. Addiction