Gender equality in health (How does your intersectionality affect your experience in health care?)
by grace bitengo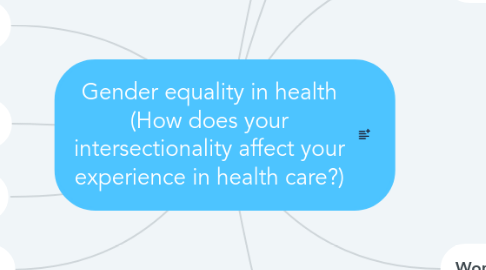 1. Intersectionality
1.1. socioeconomic factors
1.2. Gender
2. health
2.1. health in general
2.2. health care
2.2.1. 'Healthcare work force
2.2.2. Education
2.2.2.1. Gender sensitive training and edcation
2.3. sex-specific and non-sex-specific health
2.4. mental and physical health of different genders
3. Gender
3.1. Gender identity
3.2. Gender inequality
3.3. Gender Normal
3.3.1. 'masculine and feminine norms
4. the concept of 'sex and gender'
5. Education
6. understanding men's and women's health
7. SDG 3, 4, AND 5
8. Women
8.1. Menstrual health
8.1.1. Education: access to information about the menstrual cycle
8.1.2. Facilities and Products: accessing and using effective and affordable menstrual materials and having supportive facilities and services, including water, sanitation and hygiene services, - period poverty
8.1.3. Diagnosis and health services: access timely diagnosis, treatment and care for menstrual cycle-related discomforts and disorders, including access to appropriate health services and resources, pain relief, and strategies for self-care.
8.1.4. Sociocultural environment: experience a positive and respectful environment in relation to the menstrual cycle, free from stigma and psychological distress,
8.1.5. Safety and freedom: how to participate in all spheres of life, including civil, cultural, economic, social, and political, during all phases of the menstrual cycle, free from menstrual-related exclusion, restriction, discrimination, coercion, and/or violence.
8.1.6. Contraception/ sexual and reproductive health
8.1.7. Effect on performance
9. Lack of Representation of Women in Research Studies
9.1. underrepresentation in trials for medicines
9.2. undiscovered symptoms
9.3. misdiagnosis