What makes a good life? Lessons from the longest study on happiness
by philippe boukobza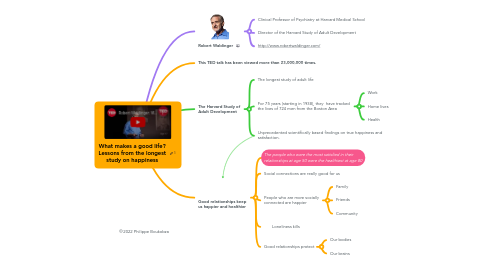 1. Robert Waldinger
1.1. Clinical Professor of Psychiatry at Harvard Medical School
1.2. Director of the Harvard Study of Adult Development
1.3. http://www.robertwaldinger.com/
2. This TED talk has been viewed more than 23,000,000 times.
3. The Harvard Study of Adult Development
3.1. The longest study of adult life
3.2. For 75 years (starting in 1938), they have tracked the lives of 724 men from the Boston Area
3.2.1. Work
3.2.2. Home lives
3.2.3. Health
3.3. Unprecedented scientifically based findings on true happiness and satisfaction.
4. Good relationships keep us happier and healthier
4.1. The people who were the most satisfied in their relationships at age 50 were the healthiest at age 80
4.2. Social connections are really good for us
4.3. People who are more socially connected are happier
4.3.1. Family
4.3.2. Friends
4.3.3. Community
4.4. Loneliness kills
4.5. Good relationships protect
4.5.1. Our bodies
4.5.2. Our brains
5. ©2022 Philippe Boukobza