What is Technology?
by Premila Senturan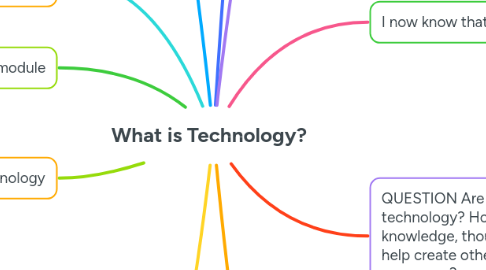 1. What did I think technology was before this module?
1.1. Personal gadgets
1.1.1. Laptops
1.1.2. Projectors
1.1.3. Cell phones
1.1.4. GPS
1.1.5. Smartwatches
1.1.6. TV
1.2. Vehicles
1.2.1. Planes
1.2.2. Fast trains
1.2.3. Cars
1.2.4. ships
1.3. Other
1.3.1. Programming
1.3.2. Internet
1.3.3. Robots
2. My FIRST thought about technology before this module
2.1. My cell phone and TV
3. My definition of technology before this module
3.1. Any gadgets, materials, and products that use programming and electronic systems are technology.
4. What I never thought would be technology
4.1. Before studying this module I never thought that pencils and chairs are considered technology. Youtube(2019)
5. Why do we need NEW technology?
5.1. For survival and for our modern lifestyle
5.1.1. If we didn't have the technology we will be still living in nature? We now have strong buildings and luxurious houses to live in. We need new technology not just for houses and buildings. New technology keeps on changing and improving our living conditions and day-to-day needs.
5.2. Access to modern medicine
5.2.1. How did we create the Covid vaccine this fast?. New technology will help modern medicine in drug research and development.
5.3. Access to food
5.3.1. Access to new creations(Process) of variety of new menus and drive through supermarkets
5.4. Manufacturing
5.4.1. The manufacturing sector, which hardly existed two decades ago, has become the largest segment of the economy and is growing by nearly 10% annually. Statistics from the world bank indicate that manufacturing output growth is the highest of all middle-income countries, exceeding that of well-known success stories such as Korea, Thailand, and Singapore Hill, 1990 . This transformation is due to the emergence of a dynamic manufacturing sector, the introduction of new products and technologies, and export-oriented industrial development (Kumar, Kumar, and Prasad, 1999)
5.5. Retail
5.5.1. Access to self-checkouts and advanced inventory management systems.
5.6. Transportation, Agriculture and communication
5.6.1. New technologies open opportunities for new scientific investigations. Together, advances in science, engineering, and technology can have—and indeed have had—profound effects on human society, in such areas as agriculture, transportation, health care, and communication, and on the natural environment. Each system can change significantly when new technologies are introduced, with both desired effects and unexpected outcomes.(Anonymous ,2012,P 201)
6. My definition of technology now
6.1. Anything that can make our lives easy from materials to processes. Technology is not just electronics.
6.1.1. As mentioned by Arthur "technology as an assemblage of practices and components".(Arthur 2019)
6.2. However, what about
6.2.1. Guns, bombs, and explosives?
6.2.2. Cybercrimes and over stimulations from screens?
7. What do I think technology is now - Supporting my definition
7.1. Human use of technology involves not only machines (e.g., computer hardware) and instruments, but also includes structured relations with other humans, machines, and the environment. In short, technology is more than a collection of machines and devices. To go beyond simplistic intuitions about technology requires investigation of the human mind and socio-cultural environment as well as interactions with technological artifacts (Isman 2012)
7.2. To a scientist, technology is the end product of one's research; to an engineer, it is a tool or process that can be employed to build better products or solve technical problems; to an attorney, it is intellectual property to be protected and guarded; to a business executive, it may be the most important, yet least understood company asset. ( Li Hua 2017)
7.3. Alan Curtis Kay a computer scientist, born in 1940 says, technology is something that did not exist before you were born (Greelish, 2013)
7.4. Technology is the set of practices humans use to transform the material world, practices involved in creating and using material things. (Agar, 2019)
8. I now know that these are technology too
8.1. Tech is not just putting a laptop (Dyer 2019)
8.2. A wheelbarrow- Helps us to move stuff around
8.3. A cloth hanger - Way of hanging clothes for convenience
8.4. A blender - A tool that helps to blend food
9. QUESTION Are humans part of technology? How about our knowledge, thoughts, and ideas that help create other materials and processes?
9.1. Human use of technology involves not only machines (e.g., computer hardware) and instruments, but also includes structured relations with other humans, machines, and the environment. In short, technology is more than a collection of machines and devices. To go beyond simplistic intuitions about technology requires investigation of the human mind and socio-cultural environment as well as interactions with technological artifacts ( Isman 2012)
10. References
10.1. Anonymous (2012) P 201: National Academies of Sciences, Engineering, and Medicine. 2012. A Framework for K-12 Science Education: Practices, Crosscutting Concepts, and Core Ideas. Washington, DC: The National Academies Press. https://nap.nationalacademies.org/read/13165/chapter/12
10.2. Arthur W.B. (2009 n.d ).The Nature of Technology: What it is and How it evolves. https://techliberation.com/2014/04/29/defining-technology/
10.3. Dyer, J. (2009, December 27). Defining the world "Technology"….Four times. https://perma.cc/FV4Q-FNNC
10.4. Greenlish, D. (2013, April 2). An interview with Computing Pioneer Alan Kay. Retrieved from Time. Isman, D. A (2012)The Turkish online journal of education technology. ht cxatp://tojet.net/articles/v11i2/11222.pdf https://techland.time.com/2013/04/02/an-interview-with-computing-pioneer-alan-kay/
10.5. Agar, J. (2019, October 11). What is Technology? Annals of Science volume 77 (issues 3). https://www.tandfonline.com/doi/full/10.1080/00033790.2019.1672788
10.6. Isman, D.A (2012) The Turkish online journal of educational http://www.tojet.net/
10.7. Kumar, V., Kumar , U.,&Persaud, A.(1999) The journal of technology transfer https://doi.org/10.1023/a:100772892112
10.8. Li-Hua ,R.(2007), What's technology, Journal of technology management.Vol 2.No 3 https://www-emerald-com.library.sheridanc.on.ca/insight/content/doi/10.1108/jtmc.2007.30202caa.001/full/html
10.9. What is Technology (July 22, 2019) Charles Tuck. Retrieved from https://www.youtube.com/watch?v=G9CzjdrFgiY&t=72