What is Technology?
by Rabia Haider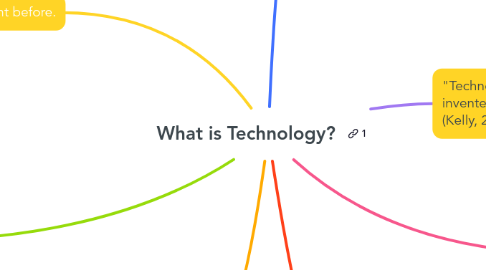 1. This Ted Talk features Kevin Kelly, founding executive editor of Wired Magazine. He seeks to address our question" "What is technology?".
2. What I thought before.
2.1. Cell Phones
2.2. Tablet
2.3. Artificial Intelligence
2.4. Computer
2.5. Solar panels
2.6. GPS
3. What I learned from the course.
3.1. "Technology has two primary components: 1) a physical component which comprises of items such as products, tooling, equipments, blueprints, techniques, and processes; and 2) the informational component which consists of know-how in management, marketing, production, quality control, reliability, skilled labor and functional areas." Kumar, Kumar , & Persuad (1999)
3.2. "Human's use of technology involves not only machines (e.g., computer hardware) and instruments, but also includes structured relations with other humans, machines, and the environment. In short, technology is more than a collection of machines and devices. To go beyond simplistic intuitions about technology requires investigation of the human mind and socio-cultural environment as well as interactions with technological artifacts" (Isman, 2012, 208)
3.3. "When people think of "technology," they tend to think of human artifacts such as machines, electronic devices, scientific hardware, or industrial manufacturing systems. However, a formal definition (College Dictionary) of technology indicates that it has a more general meaning which includes any "practical application of knowledge" or "manner of accomplishing a task". Isman (2012)
4. "Technology is anything useful invented by the human mind. (Kelly, 2010)."
5. Why do we need new technologies?
5.1. New technologies emerge to solve existing problems.
5.2. People with innovative ideas, implement those ideas to improve existing processes and systems.
6. How have my ideas changed?
6.1. Technology involves the environment in which new products are created.
6.2. It also includes systems, processes and much more just the product itself.
6.3. Scientific knowledge applied to practical implementation is technology.
7. References:
7.1. Isman, A. (2012). Technology and Technique.: An Educational Perspective. The Turkish Online Journal of Educational Technology, 11(2). http://tojet.net/articles/v11i2/11222.pdf TED Talks. (2010, February 22). Kevin Kelly tells technology's epic story [Video]. YouTube https://www.youtube.com/watch?v=GS1xL1qcBa4 Kumar, V., Kumar, U. & Persaud, A. Building Technological Capability Through Importing Technology: The Case of Indonesian Manufacturing Industry. The Journal of Technology Transfer 24, 81–96 (1999). https://doi-org.library.sheridanc.on.ca/10.1023/A:1007728921126 Isman, A. (2012). Technology and Technique.: An Educational Perspective. The Turkish Online Journal of Educational Technology, 11(2). http://tojet.net/articles/v11i2/11222.pdf