My Social Toolbox
by
Yannis Roussochatzakis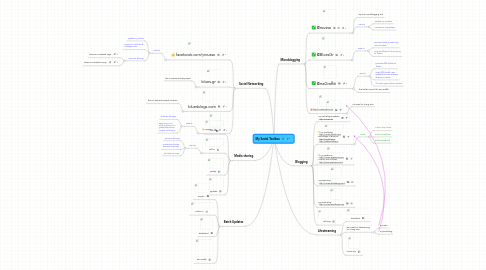 0.0
stars -
0
reviews range from
0
to
5
I'm using this mind map to sort out the tools in my social toolbox and try to finalize their purpose.
Lifestreaming
friendfeed
also used for lifestreaming for a long time
my Jaiku
my tumblelog
rousso.mp
Social Networking
used to, update my friends, connect to old friends, colleagues etc, promote blues.gr, Blues.Gr Facebook Page, Blues.Gr Facebook Group
this is a personal side-project
this is a new side project on Blues
I still hate myspace although it has vastly improved since I joined. It is of limited use, still most of the musicians/members of blues.gr maintain myspace pages, so I feel I need to keep this account too. I will be glad to delete it when that time comes.
used to, promote blues.gr, keep an eye on what is going on in greek blues scene outside of blues.gr
Batch Updates
Ping.fm
HelloTXT
twitterfeed
RSS Graffiti
Blogging
My main Blog & website - http://rousso.eu
my main blog and website
My tumblelog - http://rousso.tumblr.com Tumblelogs of Blues.Gr - http://log.blues.gr - http://photos.blues.gr
carrently aggregating but should be used as place to post smaller stuff that would normally wo to twitter but need to be longer than 140 chars
todos, unbind from feeds, add to Live Writer, add bookmarklet
My posterous - http://rousso.posterous.com Another one on blues - http://blues.posterous.com
same as tumblr but used mostly to forward e-mails. Could also be considered for updating other places.
My Blues Blog - http://rousso.bluesblogs.com
main blog about blues stuff
My Greek Blog - http://rousso.wordpress.com
Used as an extra blog to blog in Greek about politics and other greek mostly stuff.
.net blog
Microblogging
My main microblogging tool.
my main microblogging tool
used to, update my contacts, connect to new people
used to, promote blues.gr and bring new members, push the Blues.Gr Activity Log to Twitter
used to, promote RSS Graffiti on Twitter, keep RSS Graffiti users updated for new releases, features or issues, Provide support when needed
the twitter account for RSS Graffiti
http://rousso.jaiku.com
Obsolete. Probably should be deleted.
not used for a long time
Media sharing
flickr
last.fm
used to, promote blues.gr, connect with blues fans and musicians, ofc listen to music
spotify
youtube