My Social Toolbox
by
Yannis Roussochatzakis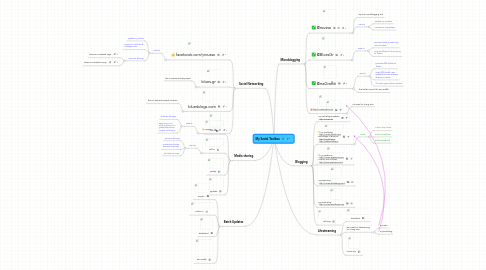 0.0
stars -
0
reviews range from
0
to
5
I'm using this mind map to sort out the tools in my social toolbox and try to finalize their purpose.
Lifestreaming
friendfeed
also used for lifestreaming for a long time
rousso.mp
Social Networking
I still hate myspace although it has vastly improved since I joined. It is of limited use, still most of the musicians/members of blues.gr maintain myspace pages, so I feel I need to keep this account too. I will be glad to delete it when that time comes.
Batch Updates
Ping.fm
HelloTXT
twitterfeed
RSS Graffiti
Blogging
My main Blog & website - http://rousso.eu
my main blog and website
My tumblelog - http://rousso.tumblr.com Tumblelogs of Blues.Gr - http://log.blues.gr - http://photos.blues.gr
carrently aggregating but should be used as place to post smaller stuff that would normally wo to twitter but need to be longer than 140 chars
My posterous - http://rousso.posterous.com Another one on blues - http://blues.posterous.com
same as tumblr but used mostly to forward e-mails. Could also be considered for updating other places.
My Blues Blog - http://rousso.bluesblogs.com
main blog about blues stuff
My Greek Blog - http://rousso.wordpress.com
Used as an extra blog to blog in Greek about politics and other greek mostly stuff.
.net blog
Microblogging
My main microblogging tool.
http://rousso.jaiku.com
Obsolete. Probably should be deleted.
Media sharing
flickr
last.fm
spotify
youtube