COMMUNICATION
by Kalvin Chakkar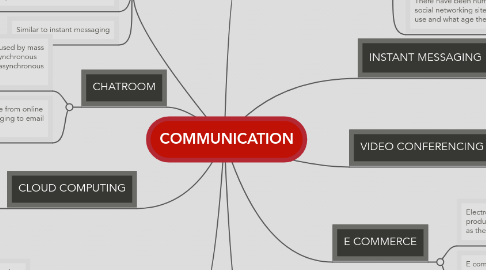 1. EMAIL
1.1. Electronic mail
1.2. Email is used to exchange digital messages
1.3. Modern emails operate over the internet or other computer systems.
1.4. Similar to instant messaging
2. INSTANT MESSAGING
2.1. Instant messaging or IM ia a form of communication over the internet that offers quick transmission of text based messages.
2.2. Similar to email however you usually don't have options such as: attachments etc. This is simply to be used for direct communication.
3. FAX
3.1. Short for facsimile and sometimes called telecopying.
3.2. The telephonic transmission of scanned printed material (both text and images), normally to a telephone number connected to another printer or output device.
4. CLOUD COMPUTING
4.1. The name comes from the use of a cloud shaped symbol.
4.2. Cloud computing is the use of computing resources (hardware and software) that are delivered as a service over a network (typically the internet)
5. CHATROOM
5.1. The term chat room is primarily used by mass media to describe any form of synchronous conferencing occasionally even asynchronous conferencing.
5.2. Technology can range from online chat to instant messaging to email forums.
6. VIDEO CONFERENCING
6.1. Video conferencing is the modern way to communicate by video and audio transmissions. in other words yuo can see and talk to people via a phone or tablet etc.
6.2. A good example would be Face time which lets the user talk and see people across the world via their phone.
7. SOCIAL NETWORKING
7.1. A social networking service is an online service that focuses on building social relationships with people judging by their background, interests, hobbies etc.
7.2. A social networking site involves each user having their own profile page which allows them to input information about themselves and images.
7.3. There have been numerous arguments whether social networking sites are safe for children to use and what age they should start using them.
8. DOCUMENT SHARNG
8.1. Usually called document and file collaboration.
8.2. A tool or system that helps multiple people work together on a single document or file to achieve a single final version.
9. E COMMERCE
9.1. Electronic commerce is the buying or selling product or service over electronic systems such as the internet and other computer systems.
9.2. E commerce is usually ossociated with E business