The Culminating Task
by Katherine Martin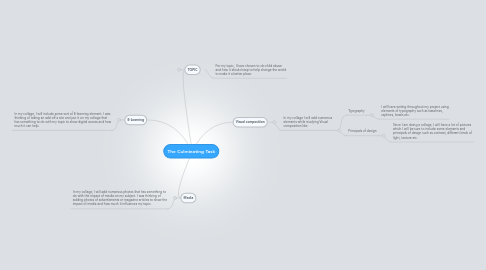 1. Visual composition
1.1. In my collage I will add numerous elements while studying Visual composition like:
1.1.1. Typrgraphy
1.1.1.1. I will have writing throughout my project using elements of typography such as baselines, caplines, bowls etc.
1.1.2. Principals of design
1.1.2.1. Since I am doing a collage, I will have a lot of pictures which I will be sure to include some elements and principals of design such as contrast, different kinds of light, texture etc.
2. Media
2.1. In my collage, I will add numerous photos that has something to do with the impact of media on my subject. I was thinking of adding photos of advertisments or magazine articles to show the impact of media and how much it influences my topic.
3. E-Learning
3.1. In my collage, I will include some sort of E-learning element. I was thinking of taking an add off a site and put it on my collage that has something to do with my topic to show digital access and how much it can help.
4. TOPIC
4.1. For my topic, I have chosen to do child abuse and how it should stop to help change the world to make it a better place.