FFAI Whole Brain Emulation
by
Thomas Breuel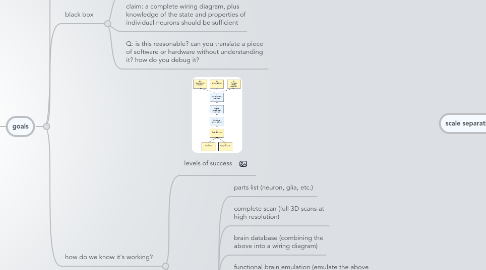 0.0
stars - reviews range from
0
to
5
FFAI Whole Brain Emulation
do we know enough?
scanning
do we have the computational resources?
roadmap
research cycle
overlap with other fields
model system
impact
subproblems
scanning
translation
simulation
(based on Sanders and Bostrom, 2008; based on workshop participants)
hypotheses
philosophical
technical
biological
These are important questions in physics, biology, and neuroscience.
The way we test hypotheses is by experiment, and for many of these hypotheses, emulation is the obvious experiment to do.
scale separation
the nervous system operates at many different scales
how do we simulate this? down to the atom? molecule? neuron?
can we describe the system at different scales? can we abstract functionality at high resolution?
we need at least one cut-off where we stop emulating greater details
observation: microstimulation (individual neurons) can produce macroscopic changes in behavior
but: in software engineering, we have many scales at which we compose software systems, yet changing a single bit somewhere can bring the whole system crashing down
detailed levels of emulation
estimates
sources
Sanders and Bostrom: Brain Emulation Roadmap (2008)
(Review Article)
conclusions
whole brain scanning seems feasible
whole brain emulation is becoming feasible over the next few decades, barring unexpected upsets in the improvement of computer performance
goals
emulation vs simulation
black box
how do we know it's working?