Moodly Beta. Humanize the internet, Gain Perspective Version 2 Moodly College (By Students. For Students.)
by
kevin seo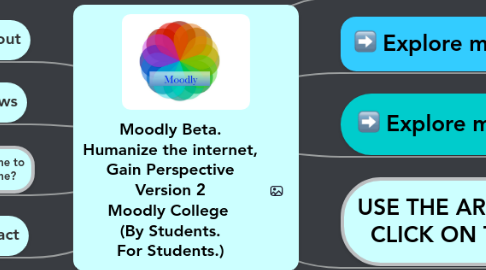 5.0
stars -
1
reviews range from
0
to
5
I want to feel
I am feeling
Explore my concerns
In what way can Moodly be of assistance?
Moodly Manual.
Hello fellow Student, fellow Internet User, fellow Human Being. Welcome to Moodly, Humanize the internet, Gain perspective. What is this you ask? Haha First, let me take the time to apologize in advance for the short comings you will experience using this version of Moodly and the unanswered questions that will go unanswered for the time being. If you have any questions or want more information feel free to email me at moodlyme@gmail.com. After a certain experience in my life I found myself wanting to make something that would help as many people as possible.Though limited and ineffective in many ways, this Moodly mind map is one of the first steps I have taken in my journey to Humanize the internet and studying the benefits that come with it. The internet is a powerful tool, why not use it to positively affect the effect of our life's. So check it check it.
About
What is this?
Why
Flaws
The layout is ugly
It's hard to navigate
It's confusing
It doesn't work for you
There is so much to read.
Do people take the time to read while surfing online?
Email me if you read this and the Moodly manual! Thanks for reading
Contact
Email me at moodlyme@gmail.com
USE THE ARROW KEYS TO MOVE CLICK ON THE PLUS TO EXPAND
How does it work?
I like to think of Moodly as a gigantic resource system. You navigate to relevant topics then it takes you to the sub-reddits I have created that hold relevant resources for that topic. Feel free to upload any resources you deem fit. Try it out, see if it works