LA CELULA
by
Andrea Toral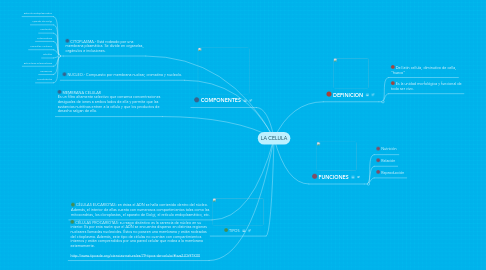 5.0
stars -
1
reviews range from
0
to
5
CÉLULAS EUCARIOTAS: en éstas el ADN se halla contenido dentro del núcleo. Además, el interior de ellas cuenta con numerosos compartimientos tales como las mitocondrias, los cloroplastos, el aparato de Golgi, el retículo endoplasmático, etc.
CÉLULAS PROCARIOTAS: su rasgo distintivo es la carencia de núcleo en su interior. Es por esta razón que el ADN se encuentra disperso en distintas regiones nucleares llamadas nucleoides. Éstos no poseen una membrana y están rodeados del citoplasma. Además, este tipo de células no cuentan con compartimientos internos y están comprendidos por una pared celular que rodea a la membrana externamente. http://www.tiposde.org/ciencias-naturales/79-tipos-de-celula/#ixzz2JDt9TK00
MEMBRANA CELULAR Es un filtro altamente selectivo que conserva concentraciones desiguales de iones a ambos lados de ella y permite que las sustancias nutritivas entren a la célula y que los productos de desecho salgan de ella.
NUCLEO.- Compuesto por membrana nuclear, cromatina y nucleolo.
CITOPLASMA.- Está rodeado por una membrana plasmática. Se divide en organelas, orgánulos e inclusiones.
Reticulo Endoplasmatico
Aparato de Golgi
Centriolos
Mitocondrias
Laminillas Anulares
Fibrillas
Estructuras Filamentosas
Lisosomas
Microtubulos
COMPONENTES
patents strong brand names good reputation among customers cost advantages from proprietary know-how exclusive access to high grade natural resources favorable access to distribution networks  
FUNCIONES
shifts in consumer tastes away from the firm's products emergence of substitute products new regulations increased trade barriers
Nutrición
Relación
Reproducción
DEFINICION
lack of patent protection a weak brand name poor reputation among customers high cost structure lack of access to the best natural resources lack of access to key distribution channels
Del latin cellula, diminutivo de cella, "hueco"
Es la unidad morfológica y funcional de todo ser vivo.
TIPOS
an unfulfilled customer need arrival of new technologies loosening of regulations removal of international trade barriers