BEER PONG TABLE
by Cindy Pruett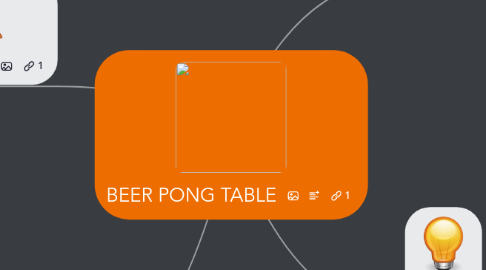 1. NEED TO GET
1.1. NEED SOUND SYSTEM EQUIP.
1.2. NEED 2 MINIFRIDGES
1.3. NEED KEG TAPS
1.3.1. http://www.youtube.com/watch?v=6oPUkIA64qw
1.4. NEED WATER PUMPS
1.5. NEED AIR PUMPS
1.6. NEED PLEXIGLASS AND PLYWOOD
1.7. 8-13" MONITORS
1.8. NEED TO FIND OFFICIAL TABLE DIMENTIONS
2. SENSORS
2.1. CUP SENSORS
2.2. BUMP TABLE SENSORS
2.3. BEER POUR SENSORS
2.4. BOUNCE SENSOR
3. Plan
3.1. Goals
3.1.1. COMPLETE IN TIME FOR STATE FAIR
3.1.1.1. USE PLC'S TO CONTROLL LIGHTS AND BEER POUR
3.2. CONDSTUCT A BEER PONG TABLE WITH OVER 500 LED LIGHTS AN IPOD READY SOUND SYSTEM ,A MOAT, KEGERATOR, A MECHATRONIC ARM FOR BEER POUR, AND AUTOMATIC BALL WASHERS THAT AUTOMATES GAMEPLAY, KEEPS SCORE AND POURS BEER
3.3. Define Problems
3.4. Capture Ideas
3.5. Prioritize Ideas
4. Ideas
4.1. TABLE HAS NUMEROUS LIGHTS
4.1.1. LIGHTS WHERE CUPS ARE PLACES TURN ON AND OFF IN ACCORDANCE WITH THE SENSORS WHETHER A CUP IS FULL AND IN ITS PROPER PLACE. ALSO WHEN BALL IS MADE IN CUP.
4.1.2. LIGHTS IN PROGRAMMED CONFIGURATIONS FLASH WHEN CUP IS MADE DURING GAME PLAY AND WHEN PLAYER IS UP TO SHOOT OR DRINK
4.1.3. LIGHTS FLASH IN SYNC TO MUSIC WHEN NOT IN PLAY AND BETWEEN PLAYERS SHOTS WHILE PLAYER IS DRINKING.
4.2. MECHATRONIC ARM AND TAP POURS BEERS FOR PLAYERS IN GAME PLAY
4.3. DISPLAY SHOWS TEAMS PLAYERS AND WHOS UP TO SHOOT THEN GIVES THEM THE OPTION TO CHOOSE WHICH PLAYER FROM OPPOSING TEAM MUST DRINK WHEN SHOT IS MADE
4.4. SCORE BOARD KEEPS TRACK OF SHOTS MADE AND BEERS DRANK FOR EACH PLAYER AND TEAM TOTALS