---- Austin Sustainability Scene Map ----- edit or send additions to EcoBrandi at gmail dot com
by
Brandi Clark Burton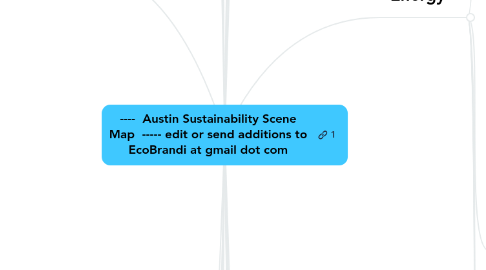 5.0
stars -
1
reviews range from
0
to
5
LCRA and CREZ: Competitive Renewable Energy Zone
Land Use / Planning
Parks and Preserves
Park Support
The Nation's only certified Organic Events Facility!
Opened in Austin, Texas in 1990, Eco-Wise has been a leader in non-toxic environmental choices for a healthier lifestyle.
GoGreenGames are produced with a 50/50 blend of recycled wood fibers and plastics that help conserve the environment. Leander, TX
Our focus is to design and construct Natural Nurseries as well as Whole-Home healthy remodels based on state-of-the-art healthy, green, scientific principles.
The Enviro Loo is a human waste treatment system that requires no infrastructure - no water, no electricity, no chemical or additives of any kind, with no outside power requirements. Elgin, TX
Offers a wide range of services and products to accommodate every business need. TOPS is proud to offer recycled products, whenever possible, to be consistent with its commitment to the environment.
Water
221 E. 9th Street, suite 300 Austin, TX 78701 512-477-6410
Kedron Touvell P.O. Box 5923 Austin, TX 78763 me@kedrontouvell.com 512-680-5998
One Texas Center 505 Barton Springs Road Austin, TX 78704 wpdrpio@ci.austin.tx.us 512-974-2501
George Innis gsnsj@sbcglobal.net 512-340-9932
Dr. Glenn Longley, Director Freeman Aquatic Science Building Texas State University San Marcos, TX 78666 gl01@txstate.edu 512-245-2329
Lady Bird Johnson Wildflower Center
3700 Lake Austin Blvd. Austin, Texas 78703 512-473-3200 http://www.lcra.org/
Austin Water
Innovative Water Solutions LLC is a full-service water conservation system design / build company that specializes in water demand and supply management in residential and commercial projects.
H20 Operations, home of The Water Monster, specializes in delivering bulk, cold filtered water to outdoor events. Our solution to hydration management greatly reduces the amount of trash accumulated during special events and provides an environmentally friendly way to hydrate spectators and participants.
For your health and the environment, we distribute a medical device from Japan that turns your tap water into the best drinking water on the planet.
Air/Climate
CoA Air Quality Program
Central Texas Clean Cities
CoolAustin.org
Land Use/Conservation
Conservation
Neighborhoods
Real Estate
Zero Waste
Compost
Recycling
Energy
General
Conservation
Solar
Wind
Biomass
Geothermal
Hydro
Methane
Energy Efficiency Products
Mobility
RideSharing
Alt Fuel/Electric
Public Transportation
Pedestrian
Bicycles
Government
General Green Events
COA
Accelerate the transformation toward sustainable building and land development practices in Central & South Texas LEED and LEED-ND info
Green Zone Home is a source for residential energy efficiency action and home performance analysis.
We offer our clients the best possible economic, social and environmental value by delivering integrated sustainable solutions, both in the projects we deliver to clients and in the way we conduct our business. Architecture
Environmental Justice
Fundraising
Marketing
Research/Planning
UT
Awareness/Networking
The ECO SERIES is a grass-roots effort that stemmed from our passion for enhanced understanding and the search for solutions to some of mankind's most pressing issues: climate change, energy independence and sustainability.
Plants/Wildlife/Animals
Texas Parks and Wildlife Dept. o Wildlife Diversity Branch Lee Ann Johnson Linam 200 Hoots Holler Rd. Wimberley, Texas 78676 512-847-9480 lalinam@txwinet.com
Travis Audubon Society o Nancy Manning, Executive Director 3710 Cedar St., Box 5 Austin, Texas 78705 512-300-2473 nancy@travisaudubon.org
2612 Sweeny Lane Austin, Texas 78723 512-928-4441 info@usefulwildplants.org
4801 La Crosse Avenue Austin, Texas 78739 512-232-0100
Source for reliable herbal medicine information 6200 Manor Rd, Austin, TX 78723
At The Natural Gardener, we have a deep understanding of what it takes to make your garden thrive. We know what plants do best here and which soils they prefer. Our staff can identify what pests and diseases your garden might have, and we offer products and recipes to take care them. Best of all, we can help you and your garden stay healthy by giving you time-tested, organic options that really work.
Austin Urban Gardens is a home grown, local Austin company, founded by Patrick Urbanski and Carla Crownover.  We are both longtime Austinites and devoted gardeners, who would love to spread the joy of raised bed gardening throughout our community, with a product we are proud to bring to you.
Habitat/Biodiversity
Trees
Policy/Advocacy
Clean Energy for Austin was formed solely to endorse the Austin Energy generation plan and Generation Task Force recommendations
The Texas League of Conservation Voters works to preserve and enhance the quality of life of Texans by making conservation a top priority with Texas elected officials, political candidates and voters.
Publications/Directories
Paul Robbins, Editor & Publisher
Entertainment
Film
Theater
Art
Schools and Educational Institutions/ Programs
Colleges/Universities
K-12 Schools
Green Services
Community Mentor Protoge Initiative: enhances participation by local, small and minority businesses in the district's bond construction program. launching a new "Green" Mentor Protege Program
Clean Air Lawn Care offers professional full-service sustainable lawn care. Our services include lawn mowing, trimming, edging and blowing. To complement the mowing services and keep your yard looking great we also offer organic fertilization treatments, fall and spring cleanups, weeding, pruning, and mulch installation.
Soma Vida is a place for people to find peace of mind, balance, and community.  Our work/life balance and wellness center is designed for individuals and entrepeneurs juggling the many aspects of their lives.  We provide the tools and opportunity for work/life balance by profiding one integrated space to live well, work well, and play.
Provides green web site hosting, secure & ad-free e-mail accounts, domain registration, and web design services.
Collective Strength provides its clients with primary and secondary research studies such as data analysis, best practice research, bench-marking, and stakeholder interest.
KISS Janitorial is  a    full   service  locally   owned  commerical  janitorial company that specializes and is CERTIFIED in "green cleaning" by the Green Clean Institute & the Green Business League.
Our mission for the AtticDr. is to hire more Americans into Green Economy jobs and to operate with sound Green & Sustainable business practices.
Legend
(legend) Businesses/Companies
(legend) Nonprofits
(legend) Government
(legend) Education
(legend) Events
(legend) Individuals
(legend) Programs
(legend) Research
(legend) Policy
(legend) Publication/Media
Food
Farms
Farm CSAs (Community Supported Agriculture
Delivery