LAUGHTER OUT OF PLACE CHAPTERS 4,5
by Soraia Maciel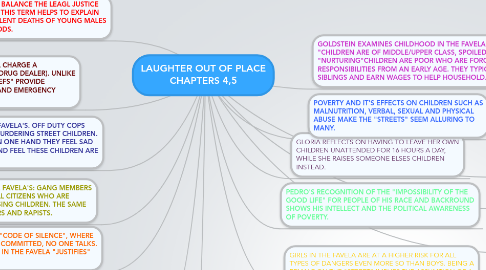 1. GLORIA'S OLDEST SON PEDRO FALLS INTO GANG/STREET LIFE FINDING GLORIA'S HONEST BUT SLAVE LIKE WORK HUMILIATING. GANG LIFE OFFERS HIM STATUS, MONEY, POWER, AND A GUN OF COURSE.
2. STATE INSTITUTIONS SUCH AS "FUNABEM" ARE NOT MUCH BETTER. POORLY FUNDED AND ORGANIZED, CHILDREN ARE OFTEN VICTIMIZED HERE TOO.
3. YOUNGER CHILDREN IN FAVELA'S ARE OFTEN RECRUITED BY GANG MEMBERS TO DO THEIR "DIRTY WORK". THIS EARLY INTRODUCTION TO GANG LIFE SEDUCES MANY IMPRESSIONABLE CHILDREN.
4. GIRLS IN THE FAVELA ARE AT A HIGHER RISK FOR ALL TYPES OF DANGERS EVEN MORE SO THAN BOYS. BEING A FEMALE ON THE "STREET" IMPLIES THE ASSUMTION OF A PROSTITUTE.
5. GLORIA REFLECTS ON HAVING TO LEAVE HER OWN CHILDREN UNATTENDED FOR 16 HOURS A DAY, WHILE SHE RAISES SOMEONE ELSES CHILDREN INSTEAD.
6. GOLDSTEIN EXAMINES CHILDHOOD IN THE FAVELA: "NURTURED "CHILDREN ARE OF MIDDLE/UPPER CLASS, SPOILED BY THEIR PARENTS. "NURTURING"CHILDREN ARE POOR WHO ARE FORCED INTO GREAT RESPONSIBILITIES FROM AN EARLY AGE. THEY TYPICALLY CARE FOR SIBLINGS AND EARN WAGES TO HELP HOUSEHOLD.
7. POVERTY AND IT'S EFFECTS ON CHILDREN SUCH AS MALNUTRITION, VERBAL, SEXUAL AND PHYSICAL ABUSE MAKE THE "STREETS" SEEM ALLURING TO MANY.
7.1. MIDDLE/UPPER CLASS FAMILIES BUILD UP "WALLS" (LITERALLY) TO SEPERATE AND AVOID THESE AREAS PRONE TO VIOLENCE AND POVERTY ("OUT OF SIGHT, OUT OF MIND")
8. PEDRO'S RECOGNITION OF THE "IMPOSSIBILITY OF THE GOOD LIFE" FOR PEOPLE OF HIS RACE AND BACKROUND SHOWS HIS INTELLECT AND THE POLITICAL AWARENESS OF POVERTY.
9. POLICE CORRUPTION IS RAMPANT IN THE FAVELA'S. OFF DUTY COPS TAKE ON THE ROLE OF "DEATH SQUAD" MURDERING STREET CHILDREN. UPPER/MIDDLE CLASS IS TORN BY THIS, ON ONE HAND THEY FEEL SAD FOR THE VICTIMS, BUT ON THE OTHER HAND FEEL THESE CHILDREN ARE INEVITABLE CRIMINALS IN THE MAKING.
10. IN THE FAVELA'S ARE THE "CODE OF SILENCE", WHERE AFTER A CRIME HAS BEEN COMMITTED, NO ONE TALKS. THE PRESENCE OF GANGS IN THE FAVELA "JUSTIFIES" POLICE BRUTALITY.
11. CORRUPT CIVIL OFFICERS IN THE FAVELA'S WILL CHARGE A "PROTECTION" FEE TO THE LOCAL HEADMAN (DRUG DEALER). UNLIKE GANG INFESTED AREAS IN THE U.S, "DRUG CHIEFS" PROVIDE SERVICES TO THE COMMUNITY LIKE HOUSING AND EMERGENCY MONEY.
12. "VIGILANTE JUSTICE" IN THE FAVELA'S: GANG MEMBERS WILL OFTEN ASSAULT OR KILL CITIZENS WHO ARE SUSPECT OF SEXUALLY ABUSING CHILDREN. THE SAME FATE IS MET FOR ADULTERERS AND RAPISTS.
13. "REVENGE": IS USED TO BALANCE THE LEAGL JUSTICE SYSTEM IN THE FAVELA. THIS TERM HELPS TO EXPLAIN THE HIGH RATES OF VIOLENT DEATHS OF YOUNG MALES IN POOR NEIGHBORHOODS.
14. A "LOCAL" HOMETOWN DRUG CHIEF IS VIEWED AS A GOOD THING IN THE FAVELA. HE WILL HELP MAINTAIN PEACE BY LOOKING OUT FOR NEIGBORHOOD CHILDREN AND WARN PARENTS TO TAKE KIDS OFF THE STREET BEFORE A SHOOT OUT.
15. "RELIGIOUS CONVERSION" AS A MEANS OF CREATING A NEW IDENTITY, GET OUT OF GANG LIFE AND OFF THE STREETS. THIS CAN HAVE POSITIVE EFFECTS ON POOR BLACK WOMEN, IMPROVING SELF-ESTEEM.