Open Networking Room @ Cascadia Convergence
by
Jon Ramer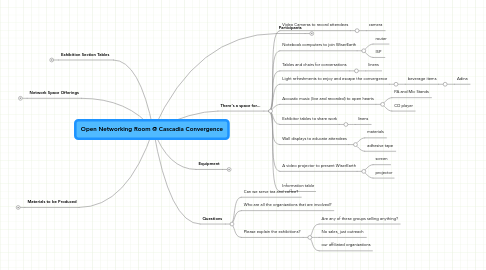 0.0
stars -
0
reviews range from
0
to
5
Open Networking Room @ Cascadia Convergence
Network Space Offerings
Conversation Tables
number for easy coordination
have pens/pencils/pads
Greeting/info/checkin table, clear/big signage, Nathan + Tova, list of gatherings/event occuring now, orientation/direction, Near the laptop kiosk
Wall Displays
Maps, WiserEarth Areas of Focus, Summary of the Events
Green October Display
Interactive network Art table/display
Beverages
Coffee/Tea, cr. & sug, Tully's service/for sale?
Water
Ambiance/Environment
Space for Meditation, canopy w/tapestry draped sides
Space for Being 1 on 1 and with Others
lighting, rope & twinkle, adjust overheads
Organizations
PSCC, Order a Puget Sound Community Card, get involved - volunteer signup
WiserEarth, Create a Person Profile, Join a Group
Year on Dialogoe and Deliberation
Community Directory and Networking Forum
Cascadia Portal
Alter/table for Habib's Garden
Groups
Equipment
Network Stations
display areas of focus on near wall
Laptop/Notebooks
4, Tova
Signup to bring lap top, Malcolm (while I am there)
Projector & Screen
PA & mike stands
CD player for music
water signs,
Decorations: drapes, pillows, room dividers, screens, color
see offerings/ambiance
Questions
Can we serve tea and coffee?
Who are all the organizations that are involved?
Please explain the exhibitions?
Are any of these groups selling anything?
No sales, just outreach
our affiliated organizations
Exhibition Section Tables
Puget Sound Community Change
Order Forms
Beneficiary Descriptions
Tri-Folds
Who else will be tabling here?
22 tables as of now
Materials to be Produced
WiserEarth Take Away
Personal instruction card for getting back to WiserEarth
URL
Participants
Room Guests
if you are looking for a place to, converse with others, informal groups, dialog and conversation, conversation cafe, world cafe, be by oneself, meditative, reflective, a place to add oneself to Wiser, learn about the community as a whole, exhibition tables, wall displays, presentations of WiserEarth, community directory and networking forum
Room Hosts
Interra Project, Tova Ramer, Brittany, Nathan, Jon Ramer, Brad DeGraf
Sustainable Cascadia, Malcolm, Syd, Sheri Herndon, Sandra
Sustainable Seattle, Chantal Stevens
Friends and Partners, Joel Levey, Michelle Levey
Sign up for hosting staff, 8-9 a.m., set-up, Tova, Brittany, Jon, Nathan, Joel after 10am, Malcolm bringing plants 7 a.m., 9-11, Tova, 10-12, 12-2, 1-3, 2-5, 5-7, close & clean
There's a space for...
Video Cameras to record attendees
camera
Notebook computers to join WiserEarth
router
ISP
Tables and chairs for conversations
linens
Light refreshments to enjoy and escape the convergence
beverage items, Adina
Acoustic music (live and recorded) to open hearts
PA and Mic Stands
CD player
Exhibitor tables to share work
linens
Wall displays to educate attendees
materials
adhesive tape
A video projector to present WiserEarth
screen
projector
Information table