Shock
by
Selina Bliss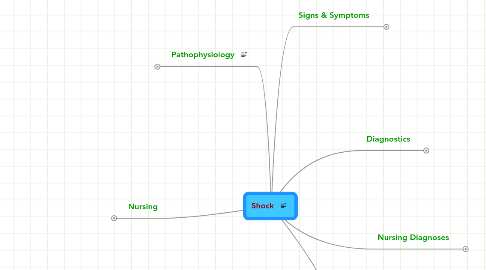 5.0
stars -
5
reviews range from
0
to
5
Shock
80 year old female, fell and fractured her hip.  Since her ORIF 10 days ago, has had a foley catheter to gravity drainage. Source:  Lewis, S. (2007).  Medical-surgical nursing:  Assessment and management of clinical problems (7th ed.). Philadelphia, PA: Mosby Elsevier.
Pathophysiology
Regardless of the cause of shock, the end result is decreased tissue perfusion and impaired cellular metabolism
Low Blood Flow
Cardiogenic Shock
Hypovolemic Shock
Maldistribution of Blood Flow
Neurogenic Shock
Anaphylactic Shock
Septic Shock
Signs & Symptoms
stages of shock
Intital
Compensatory
Progressive
Refractory
body systems
Renal, decreased urine output
Cardiovascular, decreased cardiac output
Neurologic, alteration in mental status
Pulmonary, hypoxia
Diagnostics
Lab
CBC
Cultures, Blood, Urine, Sputum
ABG's
DIC screen, Ptt and PT, platelet count
BUN and creatinine
glucose
electrolytes, Na+, K+
liver enzymes, ALT, AST, GGT
urine, specific gravity
CXR
12-lead EKG
Nursing Diagnoses
Inneffective tissue perfusion r/t
low blood flow
maldistribution of blood
Fear r/t
Collaborative Care
Correct the underlying cause
Prevent organ dysfuntion
Multisystem supportive care
Nursing
Oxygen and Ventilation
Fluid Resuscitation
Isotonic solutions
Hypertonic solutions
Blood/Bood Products
Colloids
Drug Therapy
Sympathomimetics, epinephrine (Adrenalin)
Vasodilators, nitroglycerin (Tridil), nitroprusside (Nipride)
Vasopressors, norephinephrine (Levophed), dopamine (Intropin)
Antibiotics?
Inotropics, dobutamine (Dobutrex), dopamine (Intropin)
Anticoagulation?
Nutritional Therapy
Enteral
Parenteral
Circulation
IABP