PBL Resources
by
Booker T. Washington H.S.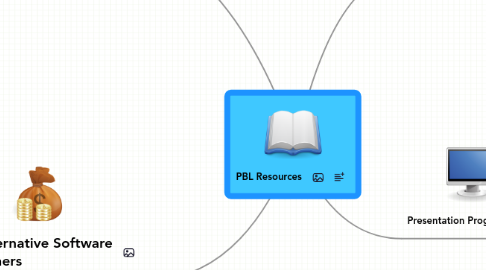 0.0
stars -
0
reviews range from
0
to
5
PBL Resources
Project or Problem Based Learning (PBL) - is a process where students are given a problem that requires the development of ideas through acquiring knowledge, working collaboratively, and presenting a solution.  
Presentation Programs
http://www.onetruemedia.com/ One True Media helps you turn your photos and video into awesome slideshows and video montages for free. Embed your slideshow or video montage onto MySpace or any website, share via email or links. Get it on a customized DVD or share to your own personal TiVo channel. With amazingly easy tools you can edit your video and photos, add in cool effects and transitions all without a software download. One True Media supports dozens of social networking and blog platforms, including MySpace, MySpace Blogs, Bebo, Blogger, eBay, Facebook, Friendster, Hi5, livedoor, LiveJournal, Piczo, Sina.com, Sohu.com, Tagged, Typepad, Windows Live Spaces, Yahoo! 360 and Xanga.
http://www.spicynodes.org/ Spicynodes allows the user to create animated diagrams of concepts and ideas.
http://www.slideboom.com/ Slide boom will allow your students to post their presentations online in flash format.  This is an alternative to having the students send emails of their slide when they can simply upload the file to the Slideboom server and share the presentation with others.
http://prezi.com/ Prezi allows the user to create animated presentations that contain pictures, videos, and text.
http://animoto.com/ This progam will allow you to make movie style trailers for free.  If you email the company they will upgrade your account for free giving you 1 minute videos.
http://www.vuvox.com/ VUVOX allows you to create interactive slideshows and presentations from photos, video and music from Flickr, Picasa Web Albums, YouTube, Facebook or your PC.  You can share them with friends, and embed them on your Myspace page, blog or website.
http://www.ispringsolutions.com/products/ispring_free.html Free PowerPoint to Flash Converter | Convert PPT to Flash Free | PowerPoint to Flash Freeware.  This site will transform PowerPoint or Open Office files to flash presentation that can used in SMARTboard board activities.
http://www.empressr.com/Default.aspx Empressr allows students to create Animated PowerPoint slides online which could serve as an alternative to using PowerPoint.
http://show.zoho.com/login.do Zoho has a similar look and feel to traditional PowerPoint slide shows.  This site allows the creation of online presenations.
http://www.mindmeister.com MindMeister is a collabrative tool for students to create a mind map or brainstroming activity at the same time on different computers.
http://www.twiddla.com/ Twiddla is collabrative tool that can be used to allow groups or an entire class to interact with a lesson or project at the same time.
http://voicethread.com VoiceThread is an online program that allows users to post videos, images, and documents in a collabrative presentation.
http://tinyurl.com/xtimeline-com This site is great for allowing students to create animated time lines of events for research or presentations.
http://creately.com/ Draw, share and collaborate on online diagrams, flowcharts, office & home network diagrams, mockups, user interface designs, wireframe, Class diagram, UML diagram, ER Diagram, process flow and online diagrams with Creately for Free - web-based
http://writeboard.com/ Write board is an online collaborative writing software that allows students to write, share, revise, and compare documents.
http://tinyurl.com/zohowriterlink Online Word Processor to create, edit and shared documents easily. Get rid of your desktop word processors.
http://www.lucidchart.com/ Collaborate on flow charts online for free.  Demo available without account registration.
http://tinyurl.com/showdocument-com Invite people for free instantaneous net meeting session where you can share any document or file, use interactive whiteboard, use fully synchronized text editor and web browsing together tool
http://www.xmind.net/ Xmind is an open source program for mind mapping, brainstorming, GTD, knowledge management and sharing.
Free Alternative Programs for Students
Alternative to TI-84 Smartview
Alternatives to Adobe Acrobat
Alternative to Office 2007
Free Alternative Software for Teachers
Alternatives to iTunes, QuickTime and Windows Media Player
Alternatives to features in Pinnacle or Final Cut
Alternatives to Nero and Roxio
Alternatives to Camtasia and Snagit
Alternative to Adobe Audition
Alternative to Adobe Photoshop
Alternative to Desire 2 Learn or Blackboard