Intervención
by Rosa Maria Mancilla Martinez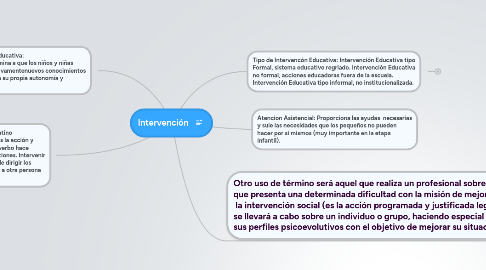 1. Otro uso de término será aquel que realiza un profesional sobre un individuo que presenta una determinada dificultad con la misión de mejorar su estado. la intervención social (es la acción programada y justificada legalmente que se llevará a cabo sobre un individuo o grupo, haciendo especial hincapié en sus perfiles psicoevolutivos con el objetivo de mejorar su situación social).
1.1. We hope you'll have fun with MindMeister ...
1.2. Get started now!
1.3. ... and some great ideas too!
2. Con origen en el vocablo latino interventĭo, intervención es la acción y efecto de intervenir. Este verbo hace referencia a diversas cuestiones. Intervenir puede tratarse del hecho de dirigir los asuntos que corresponden a otra persona o entidad.
3. Tipo de Intervencón Educativa: Intervención Educativa tipo Formal, sistema educativo regrlado. Intervenciòn Educativa no formal, acciones educadoras fuera de la escuela. Intervención Educativa tipo informal, no institucionalizada.
3.1. Use toolbar to add ideas
3.2. Key shortcuts
3.2.1. INS to insert (Windows)
3.2.2. TAB to insert (Mac OS)
3.2.3. ENTER to add siblings
3.2.4. DEL to delete
3.2.5. Press F1 to see all key shortcuts
3.3. Drag & Drop and double-click canvas
3.4. Find out more?
3.4.1. Online Help
3.4.2. Use Cases & Templates
3.4.2.1. Personal Todo List
3.4.2.2. Vacation Planning
3.4.2.3. Meeting Minutes
3.4.2.4. Project Plan
3.4.2.5. more...
3.4.3. Tools and Gadgets
3.4.3.1. Offline Mode
3.4.3.2. Geistesblitz Tools
3.4.3.3. Email & SMS Gateways
3.4.3.4. Offline Mode
4. Intervención educativa: Es la que se encamina a que los niños y niñas consigan progresivamentenuevos conocimientos que contribuyan a su propia autonomía y aprendizaje
4.1. Check out http://www.mindmeister.com/tools
5. Atencion Asistencial: Proporciona las ayudas necesarias y sule las necesidades que los pequeños no pueden hacer por si mismos (muy importante en la etapa infantil).