The road to Apr 2014: Elections in Afghanistan; a timeline by month. Minimize or expand for details (see arrow links or notes). Continued from http://goo.gl/maps/QtzIV
by Tony Frame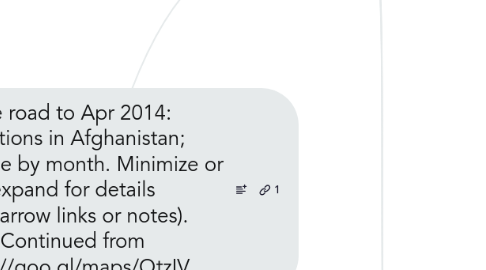 1. February
1.1. March
1.1.1. April
1.1.1.1. May
1.1.1.1.1. June
1.1.1.1.2. James Dobbins appointed
1.1.1.1.3. ANA: Starting the fighting season by taking initiative away from foes;
1.1.1.1.4. Bazaar
1.1.1.2. ANA makes a stand at Courthouse
1.1.1.2.1. ANA airplanes
1.1.1.3. Consul General Jillian Burns
1.1.1.3.1. Status from Embassy
1.1.1.4. Clearing IEDs consistently
1.1.1.4.1. Plane crash in East
1.1.1.4.2. Good Idea: "Proper Exit' for wounded warriors
1.1.1.4.3. Facilitators killed or captured
1.1.2. Karzai going to Qatar
1.1.2.1. Nuristan airport
1.1.2.1.1. ANA Janan: Disrupt the Jungle
1.1.3. Afg and US on Taliban Talks
1.1.3.1. Kerry in Afg
1.1.3.1.1. Afg gold: Safron
1.1.4. Agreement on Prisoners
1.1.4.1. Allen explains Karzai
1.1.4.1.1. East-South: Key insurgents stopped
1.2. Pres. Karzai
1.2.1. Orders no air support for ANA
1.2.1.1. Accuses US-Taliban collusion
1.2.1.2. Orders SF out of Wardak
1.2.1.2.1. Issues Related to Wardak the former Defense Minister? Also mentions need for Afghan Air asset
1.2.1.2.2. Karzai's close ties to GBerets
1.2.1.2.3. Wardak: Afghans need to win this war; Afghan honor makes it difficult to depend on others to win. "we are grateful" but we don't want rely on US forever. Need air assets. Watch 38min to 42min.
1.2.1.3. Karzai wants airplanes since his DC trip
1.3. Sec. Hagel and Sec. Kerry
1.3.1. Visits Kabul; bombs by Talib "Karzai remembers."-cnn
1.4. Gen Dunford
1.4.1. First month:Orders attacks East and South
1.4.1.1. Tribes standing up to Taiban before fighting season Feb 6.
1.4.1.2. Q&A: "the more significant challenges in the campaign are actually psychological"
1.4.1.2.1. Agreement: Out of Wardak's Nirkh district
1.4.2. Allen's farewell speech