Windowsplast in de cloud
by Tovani Colman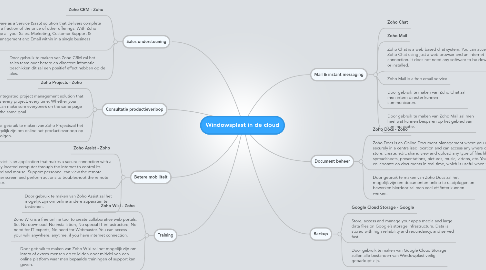 1. Mail & instant messaging
1.1. Zoho Chat
1.2. Zoho Mail
1.3. Zoho Chat is a web based chat system. You can access Zoho Chat using just a web browser and an internet connection. It does not need any software to be downloaded or installed.
1.4. Zoho Mail is a free email service
1.5. Door gebruik te maken van Zoho Chat zal men intern directer kunnen communiceren.
1.6. Door gebruik te maken van Zoho Mail zal men heel wat kunnen besparen op het gebied van communicatie.
2. Document beheer
2.1. Zoho Docs - Zoho
2.2. Zoho Docs is an Online Document Management where you can store all your files securely in a centralized location and can access any where online. You can store, create, edit, share, view and upload any type of files like documents, spreadsheets, presentations, pictures, music, videos, etc. You can also collaborate on documents in real-time, which is useful when you work as a team.
2.3. Door gebruik te maken van Zoho Docs zal het mogelijk zijn om documenten online te raadplegen en bewerken hierdoor zal men veel effiënter kunnen werken.
3. Backup
3.1. Google Cloud Storage - Google
3.2. Store, access and manage your app's media and large data files on Google's storage infrastructure. Data is stored with high reliability and redundancy, and served fast.
3.3. Door gebruik te maken van Google Cloud Storage zullen alle bestanden van Windowplast veilig gebackupt zijn.
4. Sales ondersteuning
4.1. Zoho CRM - Zoho
4.2. Zoho CRM is a Software as a Service (SaaS) solution that delivers complete CRM functionality at a fraction of the price of other offerings. With Zoho CRM you can manage all your Sales, Marketing, Customer Support & Service, Inventory Management and Email within in a single business system.
4.3. Door gebruik te maken van Zoho CRM zal het sales team over betere en directere infomatie beschikken dit zal een positief effect hebben op de ales.
5. Consultatie productieverloop
5.1. Zoho Projects - Zoho
5.2. Zoho Projects is the integrated project management solution that simplifies and speeds every project, every time. Whether your team is 3 or 30, you can make sure everyone's on the same page and working toward the same goal.
5.3. Door gebruik te maken van Zoho Projectszal het mogelijk zijn om online het productieverloop op te volgen.
6. Betere mobiliteit
6.1. Zoho Assist - Zoho
6.2. Zoho Assist is an application that makes a secure connection with a remotely located computer through the internet to control its keyboard and mouse. Support personnel can view the remote computer screen and perform actions to troubleshoot the remote computer.
6.3. Door gebruik te maken van Zoho Assist zal het mogelijk zijn om online andere apparaten te bedienen.
7. Training
7.1. Zoho Wiki - Zoho
7.2. Zoho Wiki is a free online tool to create collaborative web portals. So, No download, No installation, No special IT infrastructure, No need for IT experts, No need for Webmaster. You can access your wiki anywhere, anytime, if you have internet connection.
7.3. Door gebruik te maken van Zoho Wiki zal het mogelijk zijn om intern of extern mensen op te leiden door middel van een online platform waar men bepaalde trainingen of support kan geven.