Petulant (adj)
by
Chacha Fresh Prince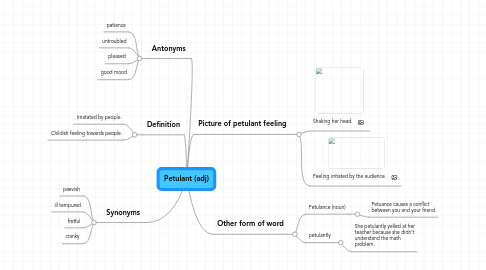 0.0
stars -
0
reviews range from
0
to
5
Petulant (adj)
Synonyms
peevish
ill tempured
fretful
cranky
Definition
Irriatated by people.
Childish feeling towards people.
Picture of petulant feeling
Shaking her head.
Feeling irritated by the audience.
Antonyms
patience
untroubled
pleased
good mood
Other form of word
Petulance (noun)
Petuance causes a conflict between you and your friend.
petulantly
She petulantly yelled at her teacher because she didn't understand the math problem.