WindowsPlast ICT 2014
by Benjamin Van de Walle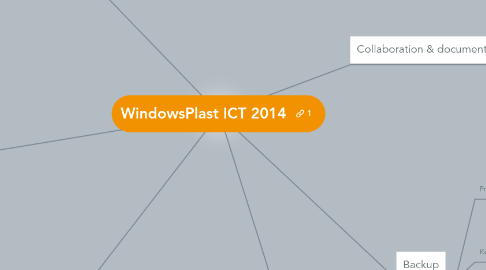 1. Mail & instant messaging
1.1. Product & Provider
1.1.1. Google
1.1.2. Gmail
1.1.3. http://www.google.com/intl/en/enterprise/apps/business/products.html?section=gmail#utm_medium=et&utm_source=gmail-signin-nl&utm_campaign=crossnav
1.2. Key functionality
1.2.1. Gmail works on any computer
1.2.2. Works also on mobile devices & tablets
1.3. Business advantage
1.3.1. 25 GB of storage means that you never have to delete anything
1.3.2. Connect wherever you are
1.3.3. Offline support
2. Collaboration & documents
2.1. Product & Provider
2.1.1. GroupCamp
2.1.2. GroupCamp Project
2.1.3. http://www.groupcamp.com/
2.2. Key functionality
2.2.1. File management
2.2.2. File sharing
2.2.3. Task management
2.2.4. Priority management
2.3. Business advantage
2.3.1. Access your online workspace from anywhere
2.3.2. Multiple languages
2.3.3. Easier for international teams to collaborate online in English, French, Spanish, Portuguese, German, Italian, Dutch and Russian
3. Backup
3.1. Product & Provider
3.1.1. Oodrive - The Cloud Storage Company
3.1.2. AdBackup Enterprise
3.1.3. http://en.oodrive.com/en/content/adbackup-pro-0/show
3.2. Key functionality
3.2.1. To protect the business-critical applications (ERP, CRM, SAP, emails etc.) and heterogeneous environments (iSeries, VMware etc.)
3.3. Business advantage
3.3.1. Dramatic reduction in backup windows with 'Delta Block' technology
3.3.2. Super fast restore times through Satellite local server and Offline Restore
3.3.3. A backup solution available as a licence or in SaaS mode
4. Sales & customer support and tracking
4.1. Product & Provider
4.1.1. Salesforce
4.1.2. Service Cloud
4.1.3. http://www.salesforce.com/service-cloud/overview/
4.2. Key functionality
4.2.1. Work smarter
4.2.1.1. All of your cases in one unified agent experience
4.2.1.2. Create and track
4.2.1.3. Route and escalate
4.2.1.4. Fully integrated with company's call-center telephony and back-office apps
4.2.2. Deliver answers anywhere
4.2.3. Get answers from every channel
4.3. Business advantage
4.3.1. Resolve issues faster
4.3.2. Complete customer insight
4.3.3. Collaborate in real time
5. Telecommunication cost
5.1. Product & Provider
5.1.1. Skype
5.1.2. http://www.skype.com/en/business/
5.2. Key functionality
5.2.1. Free Skype to Skype video and voice calls
5.2.2. Call mobiles and landlines
5.2.3. Group video calls
5.2.4. Instant messaging
5.3. Business advantage
5.3.1. Call customers, colleagues and clients on their phones at low rates.
5.3.2. A number that anyone can call from their phone and you pick up on Skype. Perfect if your business needs a global presence.
5.3.3. Get the whole team working together – you can have up to 10 people together on the same call.
6. Sales mobility
6.1. Product & Provider
6.1.1. Mobility in Cloud
6.1.2. http://www.mobilityincloud.com/
6.2. Key functionality
6.2.1. The enterprise is mobile
6.2.1.1. Organizations are transforming both strategy and operations to take advantage of the fact that mobile computing devices—laptops, smartphones and tablets—are increasing in power and memory.
6.2.2. Workers are consumers
6.2.2.1. Technology expectations have changed completely in the world of iPhones, app stores and Facebook—from the way enterprise users consume technology to the speed at which they demand support.
6.2.3. Devices ar inconsistent
6.2.3.1. While laptops remain the leading business tool, today's enterprises are multi-platform, all with different operating systems.
6.3. Business advantage
6.3.1. Ensure compliance to industry regulations with automated processes for all devices.
6.3.2. Get greater operational efficiencies with a single system to secure all smartphones, tablets, laptops and desktops with centralized policy management across multiple platforms.
6.3.3. Reduce risks with a complete view of all business operations (isolated from personal ones) on both the company- and user-owned devices.
7. Training
7.1. Product & Provider
7.1.1. MYTrueCloud
7.1.2. Training Services
7.1.3. http://www.mytruecloud.com/training-services/
7.2. Key functionality
7.2.1. Training Manuals
7.2.2. Training Videos
7.2.3. Virtual Training
7.2.4. On-Site Training
7.3. Business advantage
7.3.1. Gives good insight into the functionality found in each module and lays a solid general foundation for more hands-on training
7.3.2. Hands-on training that should be taken during and post implementation to ensure users are comfortable with key processes, features and role-specific functionality.
7.3.3. A custom tailored training program that is delivered to your entire team on-site.