This is the Moment
by
Edith MacHattie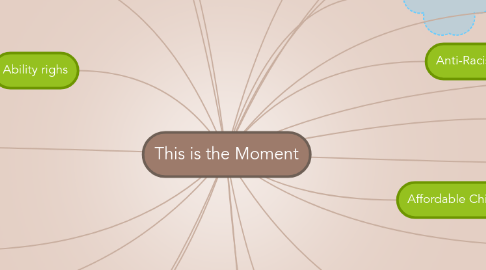 0.0
stars - reviews range from
0
to
5
Deforestation
Ice melt
Carbon in atmosphere
Co-operatives
Housing co‑operatives provide not-for-profit housing for their members. The members do not own equity in their housing. If they move, their home is returned to the co‑op, to be offered to another individual or family who needs an affordable home. Some co‑op households pay a reduced monthly rent (housing charge) geared to their income. Government funds cover the difference between this payment and the co‑op's full charge. Other households pay the full monthly charge based on cost. Because co‑ops charge their members only enough to cover costs, repairs, and reserves, they can offer housing that is much more affordable than average private sector rental costs. Co‑op housing also offers security. Co‑ops are controlled by their members who have a vote in decisions about their housing. There is no outside landlord. -from the Cooperative Housing Federation (CHF) of Canada website
Credit Unions
Businesses
The Canadian Co-operative Association is a national cooperative federation for Canadian co-operatives headquartered in Ottawa, Ontario. CCA represents over 2000 co-operatives and credit unions with 9 million members. CCA member organisations come from many sectors of the economy, including finance, insurance, agri-food and supply, wholesale and retail, housing, health and the service sector. CCA provides leadership to promote, develop, and unite co-operatives and credit unions for the benefit of people in Canada and around the world. CCA collaborates with the Conseil canadien de la coopération et de la mutualité, its francophone sister organization in Canada.
Independent media
International solidarity
Women's Equality
Affordable Childcare
Anti-Racism
Indigenous Rights
Decolonization
Idle No More
Being an Ally
Migrant rights
Refugees
This is where a short, informative description about this work would go.
No One is Illegal
Sexual Diversity rights
Gender Diversity rights
Anti-Oppression Framework
Power & Privilege
Being an Ally
Labour
Unions/organizing
Labour history
Local economy
Working class solidarity
Temporary foreign workers
Anti-globalization
Anti-capitalism
Poverty
Homelessness
Income equality
Living wage
Affordable Childcare
Social enterprise (??)
Food security
Community building
Arts ??make own bubble for arts/culture
Community gardens
Popular education
Public spaces
Festivals
Food security
Water
Resource extraction
Tar sands
Fracking
Economic
Tax reform
Re-imagining/re-framing wealth
Different economic systems/theories
Social enterprise
Legal activism
Electoral politics/ Democratic justice
Indigenous
Municipal/township
Provincial
Federal
Other
Cultivating the human spirit
Health
Community health
Focus on prevention
Harm reduction
Peer support
Progressive Work in Canada: Connecting Us Through Solidarity and Hope
Ability righs
Accessibility audits/resources
Addressing ableism
Peer advocacy/local organizing