Derby2.0 (City of Derby Social Media Map)
by
Paul Cole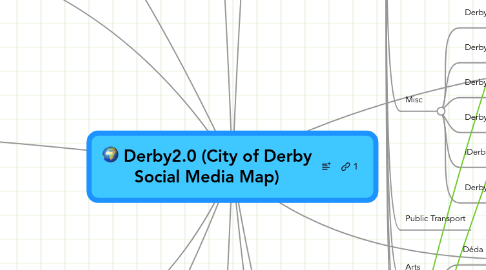 0.0
stars -
0
reviews range from
0
to
5
Good or bad, right or wrong. This is what's out there. This map is made available to you under an Attribution-Non-Commercial-Share Alike 2.0 UK: England & Wales License. For more information on what that means and the conditions under which you can use or share this work, go to the link attached to this node (http://creativecommons.org/licenses/by-nc-sa/2.0/uk/)
Derby City Council
derbycc
derbyccjobs
peregrinesderby
Councillors
Pauline Latham
Local Media
RAM FM, Dino and Pete, RAM FM News
Derby Evening Telegraph, News, Sport, Entertainment
BBC Derby
Local
ActivDerby
EAT Derby
Derby Now
Council Officers
Personal, 10+ known
Official, derbycc, derbylive, derbyccjobs
Local Councils
Derbyshire County Council, Jobs Derbyshire
NE Derbyshire Council
Bolsover District Council
Local Businesses
QUAD
Derby Wedding Venues
Katapult Web Design
Interface Derby
Silktide Studios
Education
University of Derby, Student Union
Sports
Derby County Football Club, General Sports
Local Non-Profits
Derby Cats Protection League
Derby Samaritans
Religion/Churches
Jubilee Church Derby
blogs
Derby City Council
Peregrine Falcons
Councillors, Pauline Latham
Education, Foreign Language Teaching Support, Blog 1, Blog 2
Websites
Cycle Derby
Visit Derby
Locate in Derby
Adult Education
Hi4EM
DASH
Schools, Arboretum, Lakeside, 3, 4, 5, 6, 7, 8, 9, 10
Peaceful Driving
Pride Park Sanctuary
Derby Markets
Trading Standards Derby
Assembly Rooms
Guildhall Theatre
Derby Theatre
Events
interactive
derbykidztalk
Partnerships
Derby Community Safety Partnershp
Marketing Derby
Friargate Studios
Runaways Project
Cityscape
Cathetral Quarter
QUAD
derbyshireFRIEND, Derby Goes Pink
Councillors
Pauline Latham
Derby City Council Group Conservatives
Ranjit Banwait
Media
thisisderbyshire
BBC Derby
The Derby Gripe
Misc
Derby UK.net
Derby Guide
Derby City.com
Derby Photos
iDerby
Derby Arboretum
Public Transport
Arts
Déda
Derby Jazz
Candidates
Jack Perschke
Churches/Religion
Jubilee Church Derby
Video Sharing
Vimeo
Derby City Council
Derby LIVE
Jubilee Church Derby
YouTube
CaptionTube
Channels, Derby City Council, b-active Derby, Peregrine Falcons, Derby LIVE
blip.tv
Derby City Council
Derby LIVE
Viddler
Live Webcasting
Justin.tv
ustream.com
bitstick.com
Social Bookmarking
del.icio.us
Derby LIVE
Derby City Council
Derby Homes Ltd
Digg
Derby City Council
Derby LIVE
StumbleUpon
Derby City Council
Derby LIVE
Aggretgators
Friendfeed
Derby City Council
Derby LIVE
Ping.fm
Feedburner
RSS
Derby City Council
Public Transport
Jobs Go Public, Derby
b-active Derby
Derby LIVE
news
christmas shows
comedy
drama
musicals
opera
classical
Derby Homes
?
Photo Sharing
Flickr
Derby City Council, Flora and Fauna Database, Peregrine Falcons, Derby City Council, b-active Derby
Derby LIVE
Groups, Derby, UK, Peregrine Falcons
Social Networking
Facebook
Blue for a page Green for an group Magenta for a closed Group Larger groups are indicated by bold text.  
Issue/interest based, Derby and ashamed (38), Save Moorways from Derby City Council, Derby City Council is an arse!!! (47), Save Bramblebrook House (14), Save Bramblebrook House in Derby (11), Derby needs an ice rink! (165), Keep school buses in Derby my council tax pays for this service (11), petition against the derby, nottingham and leicestershire congeston charges (35), Protest against proposals for a waste facility next to our villages (258), SAVE DERBY PLAYHOUSE (31), Save Derby, East Midlands and UK jobs from Japan (93), Derby and Derbyshire Social Media Cafe (34)
Area/Locality based, City/Network, Derby (2,945), Derby's Heritage, Derby, Derby Network Official Group (10,818), Derby Network, Derby Derby Derby, Put Derby on Facebook, Derby, Derby (7,405), You know you're from Derby when... (11,390), Lets get All Derby FaceBook members in one group (1,118), R.I.P "David" (affectionately known as "The Derby Tramp")!, NO Derby network!!!!!!!! Boo Hiss (1,523), Its called a COB!!!!, Get Derby On The New Monopoly Board!!!, Facebook Derby City UK (80), Sinfin, Osmaston, Osmaston Park Hotel, Osmaston Green Gym, Clean up Osmaston Derby, Osmaston Triangle Massive!, Ozzy Road Youth Group, Ozzy Road, No incinerator on Sinfin Lane, Derby - our health matters!, Sinfin Photo's, Sinfin Together Partnership, Sinfin Community School, You've been Sinfin....ed !!!!, Crime Watch Sinfin, Darley, Darley Abbey, Derby, Darley Abbey (Derby) Curry Club, Darley Abbey: Better than Duffield, 6th Derby Guides, Allestree, The Woodlands, Allestree, WE LIVE IN ALLESTREE ENGLAND, Allestree Young Hoodlums Reformed Society, 73rd (Allestree) Derby Scout Troup, I spend too much time in the Markeaton, Allestree, Derby!, T A B Appreciation Society, Derwent, Derwent Schools in Derby, Oakwood, Oakwood Derby, Parkview Primary School, Oakwood, Chaddesden, chaddesden park/nursery/infants/jouniors, Chaddesden, Derby, The Peregrine, Chaddesden, Privilidged Residents of Chaddesden, Chaddesden Park Infant & Junior School, Beaufort Junior School, Chaddesden, Derby, The Chaddesden Arts and Culture Society, Chaddesden Community Group (Roe Farm Centre), High View Technology Education Centre '95 (chaddesden), CHAD AND WHAT?!, Leesbrook School, Breadsall Hill Top Infant & Junior School, roe farm primary school.....derby., Meadow Farm Primary School, chad girls, School days @ Chesapeake Community Centre, Save Chaddesden's New Library Project!, Spondon, I Left West Park School, Spondon in 1991, Spondon School, Spondon Legends, Spondon, Derby, west park school spondon, The Moon Hotel - Spondon, Spondon School - 80's 90's, West Park Spondon Class of 94 Reunion, West Park Spondon Class Of 93 Reunion Proposal, The 'Springfield Primary School awesomeness' group, WestParkers!!!, Spondonites Reunite, Emma's Pole Dancing, Spondoners, Mackworth, The Mackworth Triangle, Mackworth College Alumni, the mackworth hotel, Mackworth is my ghetto., Mackworth St. Francis Lions U11, Mickleover, Mickleover, Derby, Mickleover Tesco, Mickleover Primary School, The Robin, Mickleover, Brookfield Primary School, Mickleover, Vico (Vicarage) Park days, Mickleover, Derby, MIckleover and district Wii Fit club, THE ROYAL DERBY - OFFICIAL GROUP, PASTURES SOCIAL CLUB!, Abbey, THE ADULT SHOP LTD DERBY 01332 331567, Littleover, Midlands Co-op Travel - Littleover, Littleover, Derby, Littleover Dazzlers, Littleover community school Reunion Class of 97, Littleover Massive, THE HALFMOON LITTLEOVER, Littleover Community School, Littleover Methodist Church, Heatherton Village, Littleover, Derby Littleover School Massive, Littleover Community School - 2001 Leavers!, Littleover Community School - 1991 Leavers!, Littleover Community School Leavers of 1993, Littleover Community School Yr '03-'08, Hollybrook Tavern Appreciation Society, Carlyle Infant School Alumni Association, Rhythm, Arboretum, I'm from Arboretum - Derby, Blagreaves, I'm from Blagreaves - Derby, Normanton, I'm from Normanton - Derby, Normanton Road(derby) appreciation society, St. Giles Church Normanton, Normanton Juniors Crew 93 - 97, The Shimla Club, Tilad Ltd, PAK FOODS STORE appreciation group!, Village Community School Derby (Homelands), Alvaston, ALVASTON TOWN FC, william sutton alvaston estate, Alvaston Hall, Alvaston & Boulton CC, Alvaston Junior School, Alvaston & Wilmorton Drinkers, I'm from Alvaston - Derby, Boulton Primary School - Alvaston, Derby, I DID Alvaston Junior Community School (AJCS), Alvaston.....we have 3 co-ops what the fu@# have you got!!!??, Harvey Road Illuminations Apreciation Society, Moorhead Primary School, We Worked Or Drank In The Bluey, we all drink/drank in the roundhouse, I WORK/WORKED/DRINK IN THE LODGE ALVO!, St John Fisher RC Primary School Derby, Boulton, I'm from Boulton - Derby, Allenton United AD..., Allenton Primary school, Wilko's Allenton Woop, Allenton, Derby.... AND PROUD!!!, Im from Allenton and im proud, which 1 allenton or sinfin?, Allen park infant school- Allenton Derby, PROUD TO BE DERBY BORN..n.. ALLENTON BRED!!!, IVE WALKED THE SPIDER BRIDGE..., Ive proudly drank in the mitre and think it is a respectable pub!, Chellaston, Shelton Lock and Proud!!!!!, Chellaston, Chellaston School, Chellaston Bikers!, I DID chellaston school!, I'm from Chellaston - Derby, Chellaston School. Year 11. 08', Chellaston school (year 11) 2007!, Chellaston School Reunion - 10 Years on, I did the Red Lion Chellaston, I've drank in the Rose & Crown Chellaston, I went to Chellaston School 1986-1990, Mr Dickens you will be missed but never forgotton, THE POXON ARMS! (corner pin), We love the Golden Pheasant Pub!!!
Companies/Official, Employees Old and New of Derby City Council, Derby County, Derby County, Mega Zone Derby, BBC Derby, University of Derby, University of Derby Students' Union
Misc, Derby and Nottingham singles, Derby Gaol, Cut and Fly in Derby
Arts, Derby Jazz, Format Festival, QUAD - Derby, Digital Derby, BrainRadio, Derby Playhouse (Theatre), Assembly Rooms, Derby, Derby Pole Dance Society, Japanese Culture/Anime/Manga - Tokyo Otaku Shop (UK, Derby). (793), URBAN EVENTS DERBY : SEXY R&B : HIP HOP : BASHMENT : UK GARAGE : BASSLINE (677)
Bar/Pubs/Clubs (Central), Zanzibar Derby, Barracuda Derby, Varsity Derby, Mosh Nightclub Derby, The Royal - Derby, COYOTE WILD Derby, The Blue Note Derby, The Venue, Derby, Curzons Nightclub Derby!, The Duke of York Venue
Charities, Downs Syndrome Derby, Derby and District RSPCA Shelter, Derby RSPCA, Cancer Research UK Derby Relay For Life (78)
Voluntary Groups, Derby Goes Pink, derbyshireFRIEND, derbyshireFRIEND, Derbyshire Friend Lesbian, Gay, Bisexual, Trans Support Services, HINDU TEMPLE - DERBY UK (5), South Africans in Derby, UK (8)
Derby City Council, Councillors, Lucy Care, David Batey, Paul Bayliss, Harvey Jennings, Joe Naitta, Amar Nath?, Christopher Poulter, Derby Deaf Arts, Officers, Personal, 75+ staff who list themselves as working for the Council, Official, None known, Employees Old and New Of Derby City Council (79)
Political, Groups, Pauline Latham for Mid-Derbyshire, Mid Derbyshire & Derby Conservatives, 9/11 Truth Derby Uk (9), Pages, Personal
Derby Homes Limited, Personal, Over 40 Officers, Official/professional
Applictions, Council Estate Gifts
Religion, Jubilee Church Derby (59)
Bebo
Derby LIVE
Derby City Council
MySpace
Derby LIVE, Evolution
Derby City Council
LinkedIn
Derby City Council, 80+ staff
Derby Homes Ltd, None found
Music
last.fm
Derby - United Kingdon
Derby - Joseph Wright
Mosh Derby
derby university - popular music and music technology
Spotify
Web2.0 Tools
Ning
Google
Maps
Calendar
Docs
Alerts
APIs
Groups
Yahoo
APIs
Groups
Amazon
APIs
Slide Share
Mapping
Google Maps
Street View
Multimap
New node
Derbyshire Mapping Portal
Mapquest