My New Mind Map
by Jessie Newburn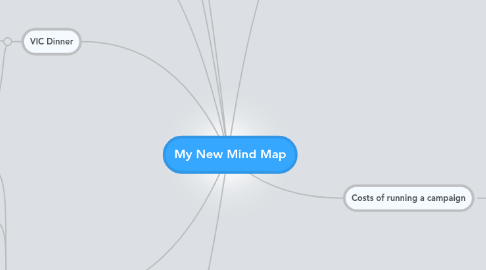 1. Tool
1.1. used IndieGogo past two years
1.1.1. Allows a higher percent taken if the total goal isn't reached
1.2. can't use Kickstarter
1.3. explore using Start Some Good (MC founder created this)
1.3.1. allows "tipping" (% of goal reached and still get the money)
2. Costs of running a campaign
2.1. Tool Cost - %
2.2. Credit card fee (additional 3-4%)
2.3. Fulfillment
2.3.1. Purchased gifts, quantity minimums for printed logo items
2.3.2. Handmade gifts
2.3.2.1. Talk to Ana Perola (2012)
2.3.2.1.1. she made gifts last year
2.3.2.1.2. volunteered to hand make some gifts this year
2.3.2.2. Talk to Talei
2.3.2.2.1. she made Carrot gifts (bracelets) last year
2.3.2.3. Craft / home made ideas
2.3.3. On playa gifts
2.3.3.1. dinner (the VIC - Very Important Carrots) dinner
2.3.3.2. Produce deliveries
2.3.3.3. Smoothie deliveries
2.3.3.3.1. very hard to time such a gift
2.3.3.3.2. we had people who never got their smoothies last year
2.3.4. VIC / Very Imp Carrots
2.3.4.1. primarily paid for by fundraising campaign; it's a "fulfillment" cost
2.4. Mailing
2.4.1. Bulk / size of items made
2.4.1.1. need to look at size of fulfillment orders
2.4.1.2. last year, packages were so small (gifts were tiny);
2.4.1.3. find balance btw bulk which increases packaging and shipping and "perceived value"
2.4.2. mailing costs, postage
2.4.2.1. domestic
2.4.2.2. international
2.4.2.3. packaging size required
2.4.2.3.1. do we need to buy boxes?
2.4.2.3.2. can we use USPS flat rate shipping
2.4.3. durability of gifts
2.4.3.1. non-breakable
2.4.3.2. perishable / non perishable
3. Gifts
3.1. Nice to have something with no fulfillment reqd, or super simple, e.g. $10 gift = sticker
3.2. On playa / Off playa
3.2.1. Some confusion last year re on/off playa gift levels; look for ways to make it clearer this year
3.2.2. Imp to capture info if they will be on playa
3.3. Branded items
3.3.1. Specific to 2013
3.3.1.1. Tote bag
3.3.1.1.1. Also a gift for all camp members
3.3.1.2. stickers
3.3.2. No year
3.3.2.1. Consider some items we can print that are without a year; can use these year to year perhaps
3.3.2.2. want to avoid printing 12/24 of something but only needing, e.g. 3, for fulfillment
3.4. On playa produce delivery
3.4.1. enticing to many on playa
3.4.2. what mix of produce can we deliver for value and freshness that is also durable
4. Profit
4.1. Need to determine total percent per dollar raised we want to keep
4.2. Subtract fulfillment (items), packaging, postage
5. VIC Dinner
5.1. funds to pay for dinner mostly come from the fundraising campaign
5.1.1. talk to Whitney to get last year's budget
5.1.1.1. food
5.1.1.2. alcohol
5.1.1.3. invitations
5.2. consider getting someone from the VIC team to be on the fundraising team, too
6. Graphics
6.1. Check out this page and how they showed gifting levels - http://www.rockethub.com/projects/22418-the-agents-of-change-tour
6.2. Taryn can help with graphics
6.3. If Heather joins, she can too.
7. Amount to raise
7.1. 2011 - raised abt $3k
7.2. 2012 - About $7k, bought a $3k dome as big infrastructure purchase; $4k for expenses
7.3. Goal for this year? Looking to cover container purchase/rental/fees (ask Dom) and more
8. Fulfillment
8.1. All done in Reno last year, pre and post playa
8.2. Where do fulfillment items get shipped
8.3. Tracking docs