MITE 6330 Learning Design and Technology by Yao Ruyan 2012877728
by
abby yao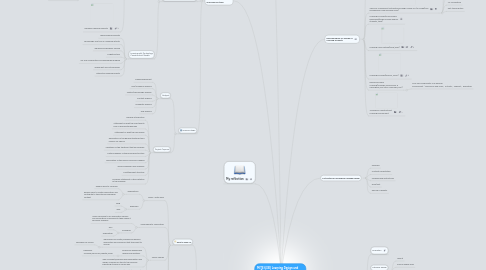 0.0
stars - reviews range from
0
to
5
Overall presentation of the mindmap:This is my mindmap for MITE 6330. By using the mindmap,I have a more systematic understanding of the course and I can also draw the map with my own comprehension for the course. In this mindmap, I'm going to cover all the content of the course, add some knowledge by reading additional references and give my own reflection at last.
Design Stage
Define a goal(s)
Conduct instructional analysis(performance,task,content analysis
Task Analysis, Analysis of job description, Analysis of job-related documents, Observation of people at work,directly or via recording, Discussion with people about specific jobs, Extrapolation of tasks from a customer's stated training needs
Analyze learners and context
Write performance/Learning objectives
Bloom(1956) Domains of learning Objectives :Knowledge Cognitive Attitude Affective Skills Psychomotor "Bloom's Taxonomy is a classification of learning objectives within education proposed in 1956 by a committee of educators chaired by Benjamin Bloom who also edited the first volume of the standard text, Taxonomy of educational objectives: the classification of educational goals (1956)."   From: Wikipedia http://en.wikipedia.org/wiki/Bloom's_Taxonomy
Performance objectives
Instructional objectives
Behavioural objectives
Specific instructional objectives
Learning outcomes
Performance objectives
Develop assessment strategy
Drill and Practice -Multiple Choice,True False,Fill in the Blank,Short Answer,Drag and Drop
Essays
Problem Solving
Tasks
Develop instructional strategy
Arrange instructional events
"This theory stipulates that there are several different types or levels of learning. The significance of these classifications is that each different type requires different types of instruction. Gagne identifies five major categories of learning: verbal information, intellectual skills, cognitive strategies, motor skills and attitudes. Different internal and external conditions are necessary for each type of learning. For example, for cognitive strategies to be learned, there must be a chance to practice developing new solutions to problems; to learn attitudes, the learner must be exposed to a credible role model or persuasive arguments." From: http://www.instructionaldesign.org/theories/conditions-learning.html
Gaining Attention
Informing learner of the objective
Stimulating recall of prerequisite learning
Presenting the stimulus material
Eliciting performance
Providing feedback about performance
Assessing the performance
Enhancing retention and transfer
Develop a set of Flowcharts
Develop Storyboards
The people who should evaluate the storyboards, Project team, Editor, A client, A content mater expert, A representative of a real user(rare)
The content of the evaluation, Content accuracy,appropriateness,completeness,coverage, Media,presentation,interface,interaction and treatment, Pedagogical quality/Instructional design, Technical issues
Write design specifications document
Screen area presentation
Authoring platform
Quality and format of graphics,videos,audio,and other media
Pedagogical considerations
Develop a Prototype
Review and evaluate project documentation
Design of Learning/Instructional Technology Product
References For this part: 1.Merrill, M. D., Drake, L., Lacy, M. J., Pratt, J., & ID2_Research_Group. (1996). Reclaiming instructional design. Educational Technology, 36(5), 5-7. 2.Petrina, S. (2004). Curriculum and instruction for technology teachers. Online: http://www. cust. educ. ubc. ca/programs/tsed/research/books. 3.Picture:http://www.nwlink.com/~donclark/hrd/learning/development.html 4.Resources:http://instructionaldesign.gordoncomputer.com/IDRoles.html 5.Smith, P. L., & Ragan, T. J. (1999). Instructional design. Upper Saddle River, New Jersey: Merrill. 6.Steen, H. L. (2008). Effective eLearning design. Journal of Online Learning and Teaching, 4(4), 526-532.
Instructional Design
Instructional Designer, Who is an instructional designer?, What are his/her roles?, Course Development Teams:Web-based courses, particularly in the corporate arena, require a team effort., ID Tasks:Because different organizations place different expectations on Instructional Designers and Course Developers, the people who build the course must be ready, willing and able to wear various different hats during the course-building process., Team Member, What is their working context ?, Mainly can be divided into two parts: Educational organizations and Commercial organizations., For Commercial organizations-Book Publishing Industry: Writing, Reviewing, Editing, Proofing and Producing, For Commercial organizations-Film Industry: Pre-production, Production, Post-production, For Commercial organizations-Software Industry:Feasibility, Analysis, Design, Program and Implement, Context for development, Outsourceing, In-House, Buy Exiting Products/Solution
Difference between Instructional Design and Lesson Planning References for Details in "Curriculum and Instruction for Technology Teachers" Chapter 9, Instructional Design focuses on "how" the learners will learn, Lesson Planning focuses on "what" the learners will learn
What can LT products do for Educational Institution and Commercial Organizations?
For Educational Institution: ICT in Class, Partly in E-learning, Flexible Learning, Distance Education, Education Staff Development
In Commercial Environment: Solve Own Training Needs, Provide Specialized E-training, Develop Digital Content for Sale, Develop Custom solution for a Client
The Project Development of Learning Technology Product
Project Development Stages, Five stages, Analysis, Design, Development, Implementation, Evaluation
What products are LT Products, E-learning, E-learning Design, Related reading:Effective E-learning Design, Multimedia Packages, Educational Digital Video, Educational Websites, Blended Learning Packages, Assessment Systems, Learning Objects, Educational Games, Educational Electronic Devices, Podcast, ITunesU, E-books
Project Development Team, Project Manager, Instructional Designer, Interface Designer, Multimedia Designer, Programmer, Others:writer,video producer,sound engineer,narrator,voice artist,artist,composer,graphic artist,3D modeler
Instructional Design Models and Analysis Stage
Instructional Design's Role In Design Stage
ID as a Special Component of the stage
ID as a Quality Assurance
ID as a Project Management
Related references and online resources:   1.Dick, W. (1996). The Dick and Carey model: Will it survive the decade?.Educational Technology Research and Development, 44(3), 55-63. 2.Instructional Strategies online:http://olc.spsd.sk.ca/DE/PD/instr/strats/drill/ 3.Linear Model by Dick & Carey: http://ballard-edu.com/methods.htm 4.MCCoy:http://www.mccoyin.com/computer_based_tutorials/computer_based_tutorials.html 5.Oval Model By Kemp(1985) http://team2edtc6321.pbworks.com/w/page/27201231/Kemp 6.Rapid Prototyping Model By Tripp & Bichelmeyer(1990) http://uwf.edu/ddawson/d3net/research/rapid_prototype.htm 7.Wikipedia:http://en.wikipedia.org/wiki/Intelligent_tutoring_system 8.Wikipedia:http://edutechwiki.unige.ch/en/Nine_events_of_instruction 9.Pictures:http://ballard-edu.com/methods.htm http://uwf.edu/ddawson/d3net/research/rapid_prototype.htm http://team2edtc6321.pbworks.com/w/page/27201231/Kemp http://www.cognitivedesignsolutions.com/Instruction/LearningObjects.htm  
Linear Model by Dick & Carey(1996)
Spiral Model By Romiszowski(1981)
Rapid Prototyping Model By Tripp & Bichelmeyer(1990)
Oval Model By Kemp(1985)
Top-to-Bottom Model By Braden(1996)
Two Learning Technology Models
Learning form Technology Instructivist Models, Drill and Practice, Computer-based Tutorials, Intelligent Tutorial Systems, Gange's 9-events of Instruction, Gain attention, Describe the goal, Stimulate recall of prior knowledge, Present the material to be learned, Provide guidance for learning, Elicit performance "practice", Provide informative feedback, Assess performance, Enhance retention and transfer, Reusable Learning Objects
Learning with Technology Constructivist Models, Learning environments, Technology as a tool in a learning activity, Inquiries and problem solving, Cognitive tolls, On-line collaboration and knowledge building, WebQuest and ActiveLesson, Interactive learning objects
Analysis Stage
Analysis, Needs assessment, User/Audience analysis, System/Technology analysis, Content analysis, Feasibility analysis, RIsk analysis
Project Proposal, General Introduction, Statement of what the client wants form a learning technology, Statement of what the user needs, Description of the general treatment and reasons for choice, Variations on the treatment that are possible, Outline diagram of the proposed structure, Description of the human resources needed, Work breakdown and schedule, Cost/payment structure, Company statement of the limitation of the proposal
Key Framework for Design of Learning Products
Related references and online resources: 1.Kolb Learning Cycle Tutorial - Static Version:http://www.ldu.leeds.ac.uk/ldu/sddu_multimedia/kolb/static_version.php 2.Learning by Doing/Case-based Reasoning: http://itls.usu.edu:8080/groups/6310_knowledgebase/revisions/400e0/25/ 3.Mayer, R. E. (2005). Cognitive theory of multimedia learning. The Cambridge handbook of multimedia learning, 31-48. 4.Wikipedia: http://edutechwiki.unige.ch/en/4C/ID 5.Pictures:http://aoi.bbent.com/AOI/Book/InstructionalDesign/Theories/LearningTheory/Cognitivism/CTML/ http://www.sciencedirect.com/science/article/pii/S0742051X050000 http://www.ldu.leeds.ac.uk/ldu/sddu_multimedia/kolb/static_version.php http://4h.wsu.edu/challenge/ http://www.accesswave.ca/~hgunn/special/papers/hypertxt/cle.html  
Multimedia Learning Theory(Mayer,2003)
Multimedia learning is a cognitive theory of learning which has been popularized by the work of Richard E. Mayer and others. Multimedia learning happens when we build mental representations from words and pictures. The theory has largely been defined by Mayer's cognitive theory of multimedia learning. Generally, the theory tries to address the issue of how to structure multimedia instructional practices and employ more effective cognitive strategies to help people learn efficiently. From:Mayer, R. E. (2005). Cognitive theory of multimedia learning. The Cambridge handbook of multimedia learning, 31-48.
Twelve multimedia instructional principles
The Four-Component Instructional Design Model-4C/ID-Model(van Merrienboer.Clark.&Croock.2002)
"4C/ID is what I call a "main-stream" Instructional Design Model that addresses the issue of how to teach complex skills, i.e. solid know-how that can be applied to real problem problems." From:http://edutechwiki.unige.ch/en/4C/ID
Learning Tasks
Supportive Information
JIT Information
Part-task Practice
Learning by Doing/Case-based Reasoning(Roger Schank and his students,1999)
"Learning by doing, a term used synonymously with case-based reasoning (CBR), is an instructional model first put forward by American psychologist Roger Schank. " From:http://itls.usu.edu:8080/groups/6310_knowledgebase/revisions/400e0/25/
"Reflective practice is important to the development of lecturers as professionals as it enables us to learn from our experiences of teaching and facilitating student learning. Developing reflective practice means developing ways of reviewing our own teaching so that it becomes a routine and a process by which we might continuously develop. Kolb developed a theory of experiential learning that can give us a useful model by which to develop our practice. This is called The Kolb Cycle, The Learning Cycle or The Experiential Learning Cycle. The cycle comprises four different stages of learning from experience and can be entered at any point but all stages must be followed in sequence for successful learning to take place. The Learning Cycle suggests that it is not sufficient to have an experience in order to learn. It is necessary to reflect on the experience to make generalisations and formulate concepts which can then be applied to new situations. This learning must then be tested out in new situations. The learner must make the link between the theory and action by planning, acting out, reflecting and relating it back to the theory." From: Kolb Learning Cycle Tutorial - Static Version http://www.ldu.leeds.ac.uk/ldu/sddu_multimedia/kolb/static_version.php
Resource-based Learning(Churchill,2006;Oliver & Herrington,2001;hill & Hannafin,2001)
Four key components of a learning environment:Resources and Tools,Activity,Support,Evaluation
A Structured Courseware Package Design
Opening
Content Presentation
Programmed Instructions
Quiz/Test
Record of Results
Prototype-Representation of final project
Defination
1.A working model and presentation of your final project 2.Provides sufficient information to allow client and the team to have glimpse into the final product 3.Used as important evaluation tool
Interface Design
Layout
Size of display area
Resolution
Color
Interaction Design
Buttons,Hot-spot areas,Clickable objects,Key press and shortcuts,Pull-down menus
Text entry,Drag&drop,Sliders,Dialer,Check boxes,Radio boxes,Lists,Haptic devices
Presentation Design
Information design
General treatments
Media design
Typography
Prototype Evaluation
By a client
By real users
By design team
By development team
WEB 2.0
Related references and online resources: 1.Churchill, D. (2009). Educational applications of Web 2.0: Using blogs to support teaching and learning. British Journal of Educational Technology, 40(1), 179-183. 2.Mobile Web 2.0:http://www0.cs.ucl.ac.uk/staff/d.quercia/others/mobile2.pdf 3.Podcasting:Wikipedia http://en.wikipedia.org/wiki/Podcast 4.Social bookmarking:Wikipedia http://en.wikipedia.org/wiki/Social_bookmarking 5.Web 2.0 :Wikipedia http://en.wikipedia.org/wiki/Web_2.0 6.Wiki:Wikipedia http://en.wikipedia.org/wiki/Wiki 7.Picture:http://en.wikipedia.org/wiki/Web_2.0 http://whiteafrican.com/2008/09/13/blogging-tools-izeafest-talk/ http://www.wikipedia.org/ http://blog.bounceweb.com/rss-feeds-using-joomla/ http://www.imtalk.me/how-podcasting-works/ http://www.interactivespaces.net/news/news.php?Mobile+Web+2.0+Book+Published
Defination
"The term Web 2.0 was coined in 1999 to describe web sites that use technology beyond the static pages of earlier web sites. It is closely associated with Tim O'Reillybecause of the O'Reilly Media Web 2.0 conference which was held in late 2004.[1][2]Although Web 2.0 suggests a new version of the World Wide Web, it does not refer to an update to any technical specification, but rather to cumulative changes in the ways software developers and end-users use the Web." From:http://en.wikipedia.org/wiki/Web_2.0
Use control of information
New forms of expression
Web as a point of presence
Internet-mediated social/collective activities
Web as a platform
Rich user experiences
Different kinds of Web 2.0
Blogs, A web-based publication, No technical skills to create own blog, Contain text,media,links, Blogs,mob-logs,v-logs,audi-logs, A community of blogers, Blog Tools:Picasa, Blogger, edublogs,Technorati,blogpulse,umana
Wiki, Wikipedia, 75,000 active contributors, >10,000,000 articles in more than 250 language, >2,300,000 articles in English, Hundreds of thousands of visitors per day,tens of thousands of edits and new articles, One of the most visited website, Comes close to Britannica, Wiki Tools: TWiki, MediaWiki, WIkIMANIA,wikispaces,pbwiki,educationalWIKIS,Twiki@hku
Social Bookmarking and Social Repositories, Social Bookmarking Tools:del.icio.us,Risal,DIgg.com,edtags,Conotea,LibraryThing,Lighter, Social Repositories Tools:YouTube,flickr,slideshare,ODE
RSS Feeds and Aggregators, RSS really simple syndication is a form of syndication in which a section of a website is made available for other sites to use, RSS Feeds--provide an updated list of content from a site, This originated with news and blog site but is increasingly used to syndicate any information, Aggregators can subscribe to a feed,check for a new content at user-determined intervals,and retrieve the content
Podcasting, Method of distributing audio programs and video over the Internet for playback on mobile devices and personal computers, Podcasts are distributed using either the RSS or Atom syndication formats., Tools:nature,podcast.net,POD,iTunes,
Social Network, Examples: Facebook,Ebay,friendster,myspace.com,LiVEJOURNAL
Web as a platform, Tools: ZOHO, Google,AirSet,yackpack
Open Source, Open source, Syndications,design for hackability and remixability, Systems that gets better when more people are using it
API for Mashups, Examples: Amaztype, Gchart
Mobile Web 2.0
"According to NESSI's Semantic Technologies Working Group: 'Web 2.0 technologies can potentially deliver advanced sharing and learning functionality based on (European wide) social networks exploiting user-tagged content and overcoming individual and local limitations for knowledge end [sic] experience sharing. Exploiting and modelling of relationships using techniques such as social network analysis enables a new dimension for knowledge sharing and collaboration.' Effectively, this definition for Web 2.0 boils down to three key verbs that lie at the heart of what denotes Mobile Web 2.0: 'share', 'collaborate' and 'exploit'. " From:http://www0.cs.ucl.ac.uk/staff/d.quercia/others/mobile2.pdf
Implication for Instructional Learning Design, User generated content, Collaboration, Social Networking, Beyond a single device
Mobile devices in classroom
Mobile learning technologis for 21st Century classrooms
My reflection
A learning technology product project requires lots of work and people.There are five development stages in the whole project: analysis, design, development, implementation and evaluation. During the five stages, it requires a professional team and the members of the team working together. Except for the essential five stages, the macroscopical social environment and the specific environment for the product are also needed to be considered.  In these sessions I learn, they provide a systematic and integrated context for using instructional technology product for educational purpose. In Session 1, it gives us a basic idea about instructional design. Instructional design is a practice which can help people learning more efficient and effective by providing a instructional experience and activity. Instructional design focuses on how the learners will learn which means it can help realize the learning outcomes by providing learning ways or methods. In Session 2, some instructional design models are listed. These models provide "guidelines or frameworks to help people organize and structure the process of creating instructional activities".Through the two kinds of learning technology models:learning form technology instructivist models and learning with technology constructivist models, we want to offer a learner-centers, knowledge-centered learning environment for the learners. For the start of a project, analysis is quite important for getting the information from environment, clients, users and so on. In Session 3,Session 4 and Session 5, we are focusing on the design stage of the whole project: developing the strategy, flowchart and storyboard. For the project, the final presentation is a prototype. It contains interface design, interaction design and presentation design. The prototype provides as a sample of the work for all the workers they can have a clear idea about what they have done and what the product would look like. There is no doubt that evaluation runs through all these stages. In the last session- Session 8, the connection between social web or Web 2.0 and learning technology design was stated. In Web 2.0, user are the central of the internet, web is a platform to provide all the services. During the process of learning technology design, how to use Web 2.0 to help realize the learning ways which the product wants to provide is a important thing.
Reading suggested material-Web 2.0 and Possibilities for educational applications by Daniel Churchill
Churchill, D. (2009). Educational applications of Web 2.0: Using blogs to support teaching and learning. British Journal of Educational Technology,40(1), 179-183.
What is Web 2.0
Read-Write Web, Applications, Enable users to consume, Enable users to create information and contribute to the sites by publishing content, Examples, Blog, Wiki
Subscribing to Information, Users subscribe to an information service and information is delivered to them when it becomes available, Examples, RSS, Podcasting
Social Spaces, Individuals can create,manage and publish information and resources that they want to access., Examples:My Space, Resources sharing and referencing systems, Examples: YouTube,del.icio.us,Napster,Flickr, Add comments,provide recommendation and assign a number of stars to the resource indicating its value in some way., The design of flexible systems that are able to "learn" and improve based on users' activities., Example:Amazon.com online store
The Internet as a Platform, Signifies a gradual transformation of the Internet into a platform that contains tools traditionally understood as being native to desktop computers., Example:Google Docs
Open Source, Ordinary Internet users act as contributing editors, Example:Wikipedia
The wide spread of Web 2.0
The spread is fascinating., Example:YouTube,MySpace,Wikipedia,blogs
Education and Web 2.0
New forms of assessment such as digital portfolios
Use of INternet-mediated social learning spaces and new forms of collaborative learning
New models and methods for design of learning objects and other kinds of digital curriculum materials that utilize emerging forms of multimedia expressions,open source and remixing of data
New models for resources sharing and support for technology integration of communities of teachers
New generations of learning management systems or possibly no LMS at all, but rather modular content and services management platforms that allow various Web 2.0 services to be selected and integrated into a customized solution
Conclusion
Web 2.0 is a new paradigm, one that necessarily requires people-and institutions, in particular-yo think outside the traditional frameworks of business,technology,media,education and so on.
In education, unless we give serious attention to Web 2.0 development, we could be encountering students who have expectations that are incompatible with our own thinking and the ways we integrate technology into our pedagogical practices. It is also a danger that unless we accommodate Web 2.0 developments in our teaching, we might find ourselves producing students unable to function in the Web 2.0-literate world outside.
Question needs to be thought:the rise of the technical capabilities of mobile and handheld technologies,what can theydo for education.