Classroom Observations: Analysis
by Sean Wells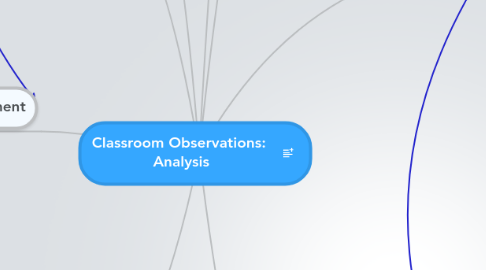 1. Positive Aspects
2. Negative Aspects
3. Motivation issues
3.1. Lack of Intrinsic Motivation
3.1.1. Third Observation: 12:20: Ss are just doing so for the grade. They were completing the exercise very quickly so they could go home.
3.1.2. Ss are afraid of punishment Fourth Observation: 12:10 The coordinator entered the room and called Edwin's attention. Immediately, Ss got quiet and still.
4. Classroom Management
4.1. Inappropriate Time Distribution
4.1.1. No Setting Time Limits:
4.1.1.1. Fourth Observation: 11:10 T finished reading the first exercise and sat down at her desk. She told Ss she was going to check notebooks. (She did not mention how much time they had to complete the exercise, she was not clear; she expected them to complete the whole worksheet)
4.1.2. Teacher takes a lot of time giving instructions
4.1.2.1. Fourth Observation: 10:30-10:56: Teacher took this much time giving instructions.
4.1.2.2. Third Observation: 10:30-11:12: Teacher gave instructions and there was also no clear task for the Ss during this span of time.
4.1.3. Teacher engages herself in activities detached from the class
4.1.3.1. Third Observation: 10:50 T sat at her desk and started making some notes. She did not pay attention to the group for about 5 min.
4.1.3.2. Fourth Observation: 11:16 T talked to someone at the door. More Ss started talking. T left the classroom for some minutes.
4.2. Inconsistent Evaluation System
4.2.1. Coordinator's Intervention
4.2.1.1. Fourth Observation: 12:15 Coordinator " That is not how you are supposed to behave in this School, you better change or I will talk to your mom. You are not going to get the 30 points from attitudinal competences. You have not even reached 12" (He is not taking into account the process during the whole academic period)
4.2.2. No Clear Percentages Per Each Activity
4.2.2.1. Throughout the observations, teacher only stablished one percentage of the activities and that was referring to the students' oral presentation.
4.3. Predominance on Negative Feedback
4.3.1. Third Observation 11:32 The second group finished presenting their poster and the teacher proceeded to give them feedback highlighting pronunciation mistakes and misuse of vocabulary.
4.3.2. T never pointed out good aspects from the oral presentation to her students, she just focused in correcting mistakes. In general, she just highlighted the things students had done wrong.
4.4. No checking for Understanding
4.4.1. Fifth Observation: 11:24 Meanwhile; some Ss approached the T with questions at her desk, teacher answered "You are having an exam you cannot ask any question because I have already explained everything to you"
4.4.2. Fourth Observation: 11:10 On the other hand, some Ss were working in the worksheet. They reached the teacher because they did not know how to make the second exercise.
5. Classroom Environment
5.1. Lack of Organization: Working in Groups
5.1.1. First Observation: 10:35 to 10:45 Many Students did not know who they were working with. Other Ss were misbehaving.
5.1.2. Second Observation: 10:45 Ss did not know how to begin, they are just messing around since they had not clear function within the group, some of them were pushing each other, throwing papers, using mobile phones and fighting.
5.2. Agressive Behavior Among Students
5.2.1. Third Observation: 11:55 T started giving feedback while the rest of the students were playing, talking loud, and even hitting each other. What is more, some of them were using offensive vocabulary. For example, Edwin twisted one of his classmate's arm until he made him cried. T did not notice this.
5.2.2. Fourth Observation: 11:10 During the time Ss were supposed to be completing the worksheet, several of them were misbehaving, especially at the back of the classroom. They talked, screamed, fought with each other; even three of them were playing "bulto" and making a lot of noisy.
5.2.3. Fifth Observation 10:36 one S interrupted and made a funny comment on a classmate, he was making fun of his skin completion. There was a group of Ss who were throwing some play-dough to their classmates while another group was trying to work.
5.3. Uncomfortable Seating Arrangement
5.3.1. Fourth Observation 11:06 S tried to justify her action but T kept telling her off for this. S " please teacher do not talk to me like that, I was not doing anything wrong. I just wanted to be closer to the board to take notes"
6. Motivation issues
6.1. Students' willingness to participate in oral presentations
6.1.1. Second and Third Observation section
6.2. Students' Interest in their academic performance
6.2.1. Second Observation 10:50 one boy asked the teacher how to say familia in English
7. Classroom Management
7.1. Teacher Reactions
7.1.1. Second Observation: 10:40 T went around the classroom talking to the groups and giving them the topic for the poster since they did not agree on a monitor.
7.1.2. Fourth Observation: 11:26 T saw some Ss sitting on the floor at the back of the classroom and told them to sit down at their chairs. Ss did not stand up. T walked to the back and made Ss stand up. After that she tried to call everybody's attention by clapping her hands. Ss reduced the noisy and T said she would collect the notebooks again.
7.2. Positive Remarks
7.2.1. Third Observation 10:42 T encouraged Ss by telling them; last classwork was great, she wanted them to keep on improving and practicing.
7.2.2. Third Observation 11:20 T "please guys, there is no reason to fight for that silly reason, we need to take into account that respect is the most important thing above all"
7.2.3. Fourth Observation 10:36 T said: Do you remember last class? You did well and you paid attention to everything, you should do the same today.
8. Classroom Environment
8.1. Space for team work
8.1.1. First Observation 10:35 T asked them to work in groups
8.2. Students' Contribution
8.2.1. Third Observation 10:50 some students were getting ready for the presentation, reviewing or asking one another questions on how to pronounce certain words.
8.2.2. First Observation 11:28 One group of students interrupted the movie talking aloud, another group of Ss asked them to please be quiet