Evaluation Question 4 How did you use media technologies in the construction and research, planning, development and evaluation stages?
by Molly Stirton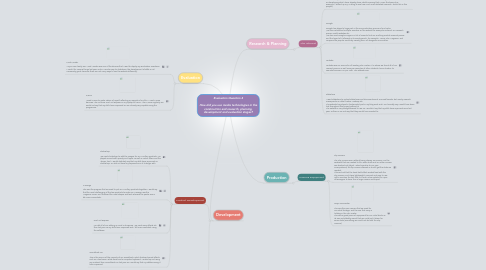 1. Research & Planning
1.1. The Internet
1.1.1. Blogger Blogger has played a reasonably big part in out pre-production process. I have used the website to find example material and also follow Harry's blog so that we can share our research as a pair. It also has allowed me to see what I achieved last year so that I can work on developing what I have already done, whilst ensuring that I cover the basics (For example, I looked up my AS blog to see how much more detailed research I should do in this project)
1.1.2. Google Google has played a huge part in the Pre-production process of our trailer. We have conducted multiple searches on the website for exemplar material, our research pieces, useful websites etc. We also used Google Images in a lot of cases to find our ancillary product research pieces, and the layout of it allowed us to simply search, for example, 'Horror Film Magazine' and compare the popular results by viewing them all alongside one another.
1.1.3. Youtube Youtube was our source for all existing Film Trailers. It is where we found all of our research pieces, as well as some examples of other students' horror trailers, to see what we were 'on par' with. This website was
1.1.4. Slideshare I used Slideshare to upload slideshows and documents such as mood boards, but mainly research Powerpoints on other trailers, makeup etc. This website has played a fundamental part in my blog work and I can honestly say I would have been lost throughout this project without it! The website is very straightforward to use, so I wouldn't say that my skills have improved since last year, as there is no real way that they would have needed to.
2. Production
2.1. Camera Equipment
2.1.1. Flip Camera The Flip Camera was, without being cheesy, our saviour. On the weekend that we needed to film extra shots and our other camera was booked out (which I admit was due to our own incompetence) the flip camera allowed us to still get the shots we needed. It turned out that the hand-held effect worked best with the Flip camera, and it was lightweight, compact and easy to use, not to mention the fact that it is much more realistic for a pair of teenagers to have than a large camera and tripod.
2.1.2. Sanyo Camcorder This was the main camera that we used for our initial footage, and the one that Harry is holding in the Film Poster. This was a good piece of equipment for our initial shots, as its size and stability meant that we could put it down for some shots (something we could not do with the Flip Camera).
3. Development
3.1. Product Development
3.1.1. Photoshop We used Photoshop to edit the images for our Ancillary products. We played around with opacity and layers, as well as colour filters and the 'stamp' tool. I would definitely say that my skills have improved on Photoshop, as I did not have any experience on it to begin with.
3.1.2. In Design This was the program that we used to put our Ancillary products together. I would say that the most challenging of the two products to make on In Design was the Magazine Cover, as it featured the most shapes and text, whereas the poster was a bit more minimalistic.
3.1.3. Final Cut Express We did all of our editing on Final Cut Express. We used more effects etc. than last year, as my skills have improved and I felt more confident using the software.
3.1.4. Soundtrack Pro This is the source of the majority of our soundtrack, which featured sound effects such as a low boom, white noise and a computer keyboard. I ended up not using any material from Soundtrack Pro last year, so I would say that my abilities using it have improved.
3.2. Feedback
3.2.1. Facebook was one of the social networking sites that we used, but the only one we used for feedback. I posted a link to our concept powerpoint and asked for our peers to comment with their opinions. We did the same for our rough cut of the trailer.
4. Evaluation
4.1. Mind Meister As you can clearly see, Mind Meister was one of the devices that I used to display my Evaluation Questions. I used it for various things last year, and in a similar way to Slideshare, the development of skills is not necessarily great, because there are not many ways to use the website differently.
4.2. iMovie I used iMovie to make videos of myself reflecting on aspects of my film. I used iMovie because I do not have Final Cut Express on my laptop at home. I use iMovie regularly, so I would not say that my skills have improved as I am already very capable using the programme.