Validity and Reliability
by Christian Tisby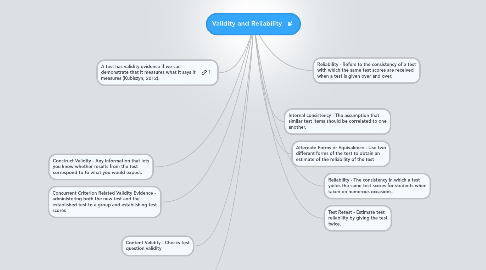 1. Content Validity - Checks test question validity
2. Criterion Related Validity - test scores correlated with external criteria
3. Concurrent Criterion Related Validity Evidence - administering both the new test and the established test to a group and establishing test scores
4. Construct Validity - Any information that lets you know whether results from the test correspond to to what you would expect.
5. Reliability - The consistency in which a test yields the same test scores for students when taken on numerous occasions.
6. Test Retest - Estimate test reliability by giving the test twice.
7. Alternate Forms or Equivalence - Use two different forms of the test to obtain an estimate of the reliability of the test
8. Internal consistency - The assumption that similar test items should be correlated to one another.
9. A test has validity evidence if we can demonstrate that it measures what it says it measures (Kubiszyn, 2012).
10. Reliability - Refers to the consistency of a test with which the same test scores are received when a test is given over and over.