Gabe Perea Browsers 2013
by Gabe Perea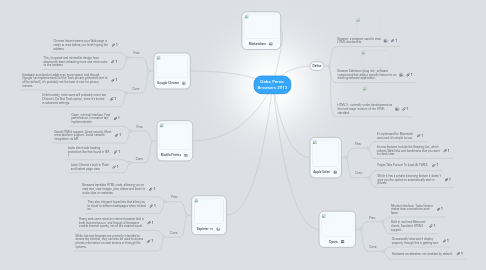 1. Define
1.1. Browser: a program used to view HTML documents.
1.2. Browser Extension (plug ins): software component that adds a specific feature to an existing software application.
1.3. HTML 5: currently under development as the next major revision of the HTML standard..
2. Apple Safari
2.1. Pros:
2.1.1. It's optimized for Macintosh users and it's simple to use.
2.1.2. Its new features include the Reading List, which collects Web links and bookmarks that you want to check later.
2.2. Cons:
2.2.1. Pages Take Forever To Load At TIMES.
2.2.2. While it has a private browsing feature it doesn't give you the option to automatically start in private.
3. Marketshare
4. Google Chrome
4.1. Pros:
4.1.1. Chrome Instant means your Web page is ready to read before you finish typing the address
4.1.2. This, its speed and minimalist design have deservedly been attracting more and more users to the browser.
4.2. Cons:
4.2.1. Hardware acceleration adds even more speed, and though Google has implemented Do Not Track privacy protection (set to off by default), it's probably not the best choice for privacy mavens.
4.2.2. Unfortunately, most users will probably never see Chrome's Do Not Track option, since it's buried in advanced settings.
5. Mozilla Firefox
5.1. Pros:
5.1.1. Clean, minimal interface. Fast performance. Innovative tab implementation.
5.1.2. Good HTML5 support. Good security. Most cross-platform support. Social network integration via API.
5.2. Cons:
5.2.1. Lacks client-side tracking protection like that found in IE9. 1
5.2.2. Lacks Chrome's built in Flash and Instant page view.
6. Explorer 10
6.1. Pros:
6.1.1. Browsers translate HTML code, allowing you to read text, view images, play videos and listen to audio clips on websites.
6.1.2. They also interpret hyperlinks that allow you to travel to different webpages when clicked on.
6.2. Cons:
6.2.1. Heavy web users need an internet browser that is both fast and secure, and though all browsers enable internet access, not all are created equal.
6.2.2. While internet browsers are primarily intended to access the internet, they can also be used to access private information on web servers or through file systems.
7. Opera
7.1. Pros:
7.1.1. Minimal interface. Turbo feature makes slow connections even faster
7.1.2. Built-in mail and Bittorrent clients. Excellent HTML5 support.
7.2. Cons:
7.2.1. Occasionally sites won't display properly, though this is getting rare.
7.2.2. Hardware acceleration not enabled by default.